Best VR Headset to Watch Movies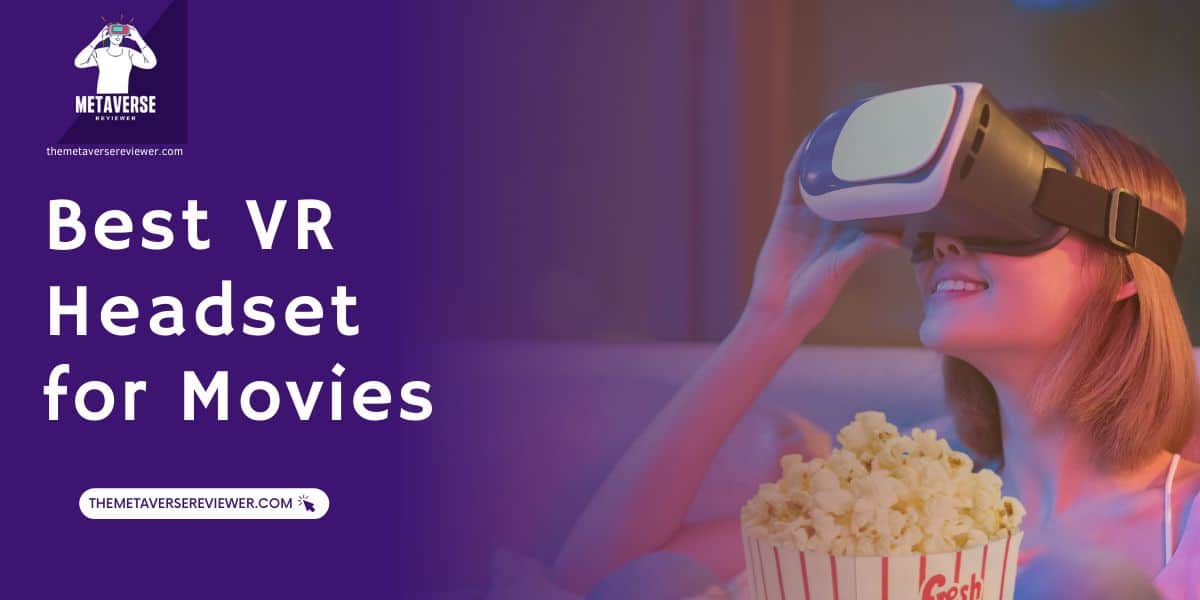 Disclaimer: This site may contain links to affiliate websites, which we may receive compensation if you purchase these products 
Important Features to Consider
Key Considerations for Choosing the Best VR Headset for Movies:
Field of View (FOV):

Understanding the importance of FOV, which dictates the immersive experience; higher FOV enhances the sense of presence.

Comfort:

Evaluating the comfort level and considering the potential need for additional comfort modifications, with awareness of associated costs.

Resolution:

Recognizing the impact of higher resolution and pixel densities on image clarity and reducing the screen door effect for a better visual experience.

Lenses:

Contrasting Fresnel Lenses with Pancake Lenses, emphasizing the latter's advantages in clarity and reduction of god rays for an upgraded viewing experience.

Price:

Considering the budget and determining how much one is willing to invest in a VR headset.

Tethered or Wireless:

Weighing the pros and cons of tethered and wireless options, and ensuring compatibility with the PC if choosing a tethered headset.

Gaming:

Assessing the level of gaming activity planned to ensure the chosen headset aligns with entertainment preferences.

Refresh Rate:

Acknowledging the importance of refresh rate, particularly for gaming, and its impact on the smoothness of motion in movie-watching scenarios.

Color Passthrough:

Exploring the capability of color passthrough for overlaying VR elements on the environment, offering unique possibilities such as creating a virtual TV screen in the physical space.
Best Movies to Watch in VR
Virtual reality has never been so popular, and thanks to the available VR games and apps, there are tons of such titles to immerse yourself in!
However, there are some things to keep in mind when choosing which movie to see.
A considerable number of the VR movies are new, and you may run into less-than-satisfactory resolution, poor plotline, etc. Most of these films are also relatively short instead of two or three hours long.
Nonetheless, there are some noteworthy titles deserving of your attention. The following list denotes the best VR movies to watch:
El Camino;
Star Wars: The Last Jedi;
The Invisible Man;
Bloodshot;
Cargo;
Maze Runner;
A Quite Place Part 2;
The Matrix;
Onward.
Is VR Headset Worth for Watching Movies?
A VR headset is an excellent option for watching movies at home, as it provides an authentic, 3D cinema experience.
The image quality is unmatched, and the sound is more than satisfactory.
If you choose a VR set with built-in speakers, you'll receive surround sound to capture that in-theater presence.
Given all the benefits, we can guarantee that VR headsets are ideal for watching your favorite movies at home.
VR Headset to Watch Movies Drawbacks

Although modern VR headsets boast impressive resolution, a significant challenge remains: glares. VR headsets use fresnel lenses, and their primary drawback becomes evident in high-contrast scenes, such as a loading screen with white text against a black background.
While some individuals can overlook these glares, others find them bothersome. A workaround is adjusting the background during movie watching; for example, a black 'space' background may result in noticeable glares, whereas a living room background may not.
Following hands-on testing and benchmarking of each product on this list, our team of experts will unveil the best VR headsets for an optimal movie-watching experience.
Can I Watch Netflix on VR Box?
Your VR headset serves as a way to play games and watch movies on various streaming platforms—including Netflix.
All you have to do is download and install the designated Netflix VR app available on Google Play Store, Oculus Store, etc.
After that, log in to your account, and you're good to go!
We must, however, mention that there are specific limitations regarding the app.
The resolution isn't the best, and you cannot use it to download any tv shows or movies.
If this isn't too much of a nuisance, watching your favorite Netflix title on VR will be a blast.
Final Thoughts
Watching movies using a VR headset can elevate your viewing experience and immerse you into the big screen.
If you're a cinema lover, this may be the highest engagement level that you can get.
Fortunately, many VR headsets currently offer different prices that can match all tastes and budgets.
The good thing is that most of the latest VR headsets that let you watch movies and are also suitable for other purposes, such as playing games and attending virtual conferences and concerts.
Whether you prefer cheaper or more sophisticated headsets, we strongly recommend having a go at one and witnessing the power of VR yourself!
Frequently Asked Questions:
Can I watch movies lying down?
Absolutely. The great thing about VR is you can adjust the screen wherever you want, so you can have it front of your eyes whilst you're lying down.
Will I get motion sickness from VR?
No you won't. Movies don't cause motion sickness.
You only get motion sickness when there's artificial movement going on e.g. when you're playing games and using the controller to move. The reason for that is your eyes detect motion, but your body is stationary and this sensory conflict confuses the brain and causes motion sickness.
But for 2D and 3D movies – you won't get motion sickness.
What is the best VR headset for Netflix?
The Oculus Go by far, because it offers the most benefit for cost. Samsung Gear VR is a good budget headset for those who already have a Samsung phone.
Can I use headphones or earphones with these VR headsets?
Yes you can. All these headsets come with integrated audio speakers, but if you got earphones, they'll fit into these headsets. Most headphones on the other hand won't fit, you'll have to buy custom sized ones.