Since its initial launch in 2020, the Oculus Quest 2 virtual reality headset has undergone numerous transformations. Now known as the Meta Quest 2, it has been boosted with critical software enhancements like improved refresh rates reaching 120Hz, advanced hand tracking, seamless PC wireless connectivity, and voice recognition capabilities. It's a bit like owning an alternate universe really, ready to be discovered from the comfort of your own home.
Despite these changes, one aspect remains unchanged: Meta Quest 2 continues to hold its position as the most sought-after VR headset in the market, a gadget that's really reshaping the scene of virtual reality. It's not just another piece of tech in the market; it's a groundbreaking innovation that's bringing virtual reality into our everyday lives.
The beauty of Quest 2 is that it's an all-in-one virtual reality system. Simply put, you don't need to connect it to a computer for it to work. It's all about freedom—no tangled cables, no complicated setups—and yet, it offers high-quality visuals and immersive sound in a package that won't empty your pockets. This combination is what makes Quest 2 truly special. It's designed with everyone in mind—gamers, movie lovers, fitness enthusiasts, or just the tech-curious among us.
But the real game-changer with Quest 2 is how it alters our interaction with the digital realm. It takes gaming, learning, and even working out to a whole new level of immersion and engagement. So, get ready to explore this exciting landscape. The future of how we engage with digital content is here, and it's open for everyone to discover.
Overview of its features and capabilities
The Meta Quest 2 is like a dream come true for VR fans. It's not just its cool minimalistic white look that catches your eye. Inside, it runs on a powerful processor, the Qualcomm Snapdragon XR2, that guarantees a smooth and immersive VR experience. It's kitted out with improved Meta Touch controllers that offer precise interaction with the VR environment.
Once you slip on the headset, you're welcomed by high-resolution screens that bring every detail to life in your virtual surroundings. Thanks to a high refresh rate, the visuals are seamless and keep motion sickness at bay. But the features don't stop there. The Quest 2 offers hand tracking, wireless PC connectivity for high-end VR games, voice commands, and built-in speakers. If you prefer your own audio setup, just plug in your headphones or connect them wirelessly. To top it off, conveniently located volume controls and a USB-C port for charging and data transfer are part of the deal. The Meta Quest 2 isn't just another VR headset—it's your personal portal to endless VR adventures.
Tips and tricks for using Quest 2
If you want to learn to navigate this advanced VR device with confidence and ease and fully harness its potential, here are some insider tips and tricks that can truly transform your Meta Quest 2 experience.
How to use FBT with Quest 2?
The Meta Quest 2, despite being a market leader in VR headsets, doesn't come with full body tracking (FBT) out of the box. The reason is partly due to cost considerations, as adding more sensors would undoubtedly increase the price. The standard setup of Quest 2 is equipped with sensors that primarily track the head movements of the user.
Although not inherently designed for FBT, there are ways to make it possible on the Quest 2. However, it's important to understand that this isn't a straightforward solution and will require not only financial investment but also your time and effort. 
If you're interested in giving it a go, here's what you need to know. Firstly, you'd need to have these additional components:
External trackers along with straps for mounting them.

Base stations to detect these trackers.

A VR-capable PC. This workaround isn't applicable for standalone Quest games but will work with games on the SteamVR platform. If you don't already have a PC set up for VR gaming, you'd need to get one for this to work.

Lastly, you'd need to install the OpenVR Space Calibrator software.
These are steps for an experimental workaround and not an official solution, so results may vary. Always check with trusted sources or official Meta resources for the latest and most accurate information. If in doubt, here is the full in-detail explanation of how to use FBT with Quest 2.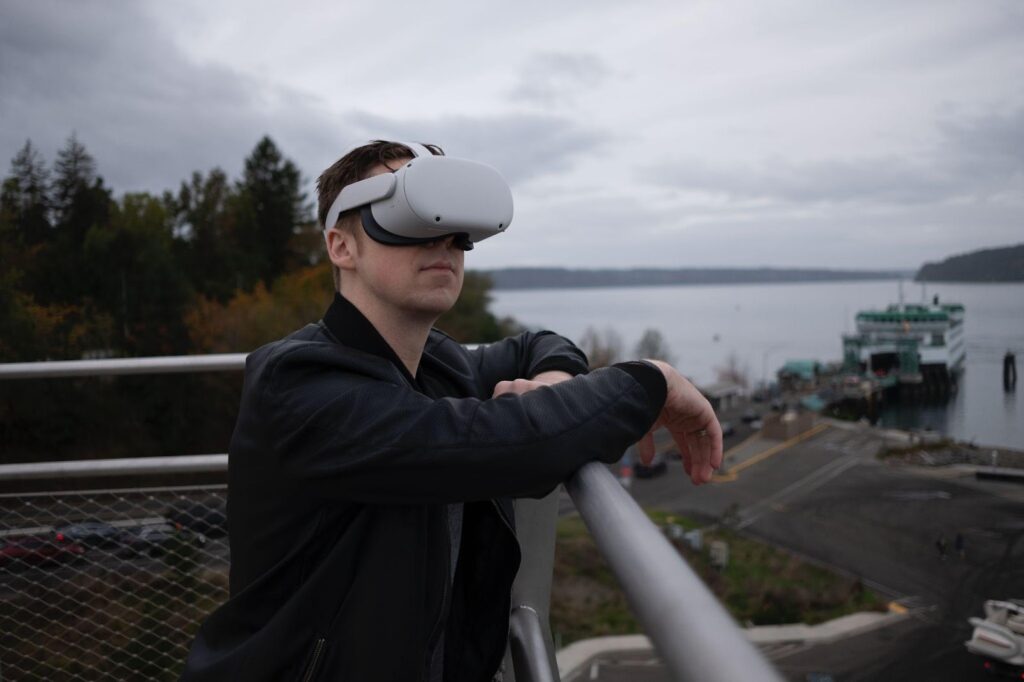 How do you set boundaries in Quest 2?
Setting up boundaries on the Meta Quest 2 is a key part of ensuring your VR experience is safe and enjoyable. The system employed is called Guardian. As Meta writes, "Guardian is a built-in safety feature that lets you set up boundaries in VR that appear when you get too close to the edge of your play area." This system was essentially designed to prevent you from accidentally colliding with real-world objects while you're immersed in the virtual world.
To set up these boundaries, you'll first need to put on your Quest 2 headset. Once it's on, you'll be prompted to define your play area. Using one of your Touch controllers, you can draw the boundaries of your safe space directly onto the virtual floor visible in your headset. It's recommended to give yourself a buffer from real-world obstacles. Once this is done, the Guardian system will alert you whenever you approach the edge of your defined play area, thereby helping to avoid any potential mishaps.
Chromatic aberration in Quest 2 and how to fix it?
Chromatic aberration in the Quest 2 is the failure of the lenses to focus all colors to the same point, which creates an outline of unwanted color along the edges of objects (see the image below).
To combat the issue, the Quest 2 uses a shader to apply chromatic aberration correction (that counters the original chromatic aberration). You can still clearly see the phenomena in VR if you turn your head away from an object (so it's not in the center anymore) and try to glance at it near the edge of the image by only moving your eyes.
Chromatic aberration (correction) is enabled by default and there is no need to change it. However, if you want to test it out, you can try turning it off from SideQuest settings and compare the difference.
ADB command to disable chromatic aberration (correction):
//0 for disabling, 1 for enabling (default)
adb shell setprop debug.oculus.forceChroma 0
What games should I get for Quest 2?
The Quest 2 has a huge library of games to choose from, but here are a few popular options.
Beat Saber: Probably the most popular game in VR, Beat Saber has you slicing colored blocks to the rhythm of a song using two lightsaber-like blades. It's a fantastic game to get you moving and offers a fun, engaging experience for players of all ages.
Superhot VR: Superhot VR is a unique first-person shooter where time only moves when you do. This allows you to plot your strategy and move with precision. The game's stylish aesthetic and innovative gameplay make it a must-play title on Quest 2.
Population: One: If you're a fan of battle royale games like Fortnite, then you'll love Population: One. This game gives you the freedom to climb, fly, and build in VR while battling other players. It offers a fun, social multiplayer experience that's very immersive.
The Walking Dead: Saints & Sinners: This game brings the horror of the popular TV series to life. The zombies feel real and the survival gameplay is very immersive, making it a must-play for horror and zombie fans.
Moss: A charming action-adventure puzzle game, Moss puts you in control of Quill, a tiny mouse with a big heart. It's an epic journey told from a new perspective and the use of VR adds a fresh layer to the gameplay.
Echo VR: This is a competitive zero-gravity multiplayer sport game. It's a fast-paced, team-based game that's fun to play and even more fun to master. It's also free-to-play, so it's definitely worth a shot.
When will Minecraft come to the Quest 2?
For all the Minecraft enthusiasts out there, the good news is that Minecraft is already available on Oculus Quest 2. Minecraft VR takes the familiar world-building, resource-mining gameplay of the popular Sandbox game and transports it directly into virtual reality. Not only can you navigate these pixelated landscapes, but you can fully immerse yourself within them, courtesy of the Quest 2.
The Oculus Quest 2, notable for its standalone design, doesn't need a tether to a PC or a console. This VR headset gives players an all-new perspective on their games. With the Oculus Touch controllers, your in-game actions are more intuitive and immersive than ever before.
There are two versions of Minecraft available on the Oculus Quest 2: the original Minecraft VR and the newer Minecraft VR – Windows 10 Edition. The original Minecraft VR stays true to the game's roots, whereas the Windows 10 Edition, available via the Windows 10 store, brings additional features to the table. Alongside the staple gameplay, this version offers cross-platform play and access to the Minecraft Marketplace.
In summary, both versions of Minecraft on Oculus Quest 2, with the Oculus Touch controllers, offer an immersive gaming experience that goes beyond simple play. The choice between classic and the Windows 10 Edition lies in your hands, along with the capacity to build, explore, and mine within the rich, pixelated worlds of Minecraft VR.
What games are free on Quest 2?
Even though Oculus Quest 2 boasts an impressive selection of engaging virtual reality games, it is important to note that not all of them are available free of charge. Many of the most popular and intricate experiences do require a purchase. However, the platform does not entirely disregard users looking for a cost-effective introduction to virtual reality gaming. There are indeed a number of free games on Oculus Quest 2, that offer high-quality gameplay and immersive experiences.
One such game is "Rec Room". It functions as a social hub in the VR space, allowing users from all around the world to meet and engage in a multitude of games and activities together. Then, there's "Echo VR", which offers a unique experience of playing various sports in a zero-gravity environment, providing an adrenaline-fueled adventure.
"VRChat" is another free offering that has captured the interest of many users. It is a platform that enables VR users to interact and share experiences, creating a virtual community. "Bait!" is a calm and serene fishing game that engages users in an interesting mission to save a local aquarium while enjoying the tranquility of nature. Lastly, "PokerStars VR" offers a virtual table for card game enthusiasts, enhancing the traditional poker game experience with the immersion of virtual reality.
Each of these games, while free to access and play, may present users with opportunities for in-game purchases to enhance their VR experiences further. However, such purchases are completely optional and the core game remains free. With these free offerings, users can begin to explore the expansive and exciting world of VR gaming with their Oculus Quest 2.
Conclusion
It is clear that the Meta Quest 2 has emerged as a pioneering force in the field. From its release in 2020 until now, it has undergone numerous enhancements to cement its place as a leader in the market. Armed with remarkable features like improved refresh rates of 120Hz, sophisticated hand tracking, seamless wireless PC connectivity, and voice command capabilities, the Quest 2 serves as an accessible portal to an alternate universe. It's more than just another VR headset—it's an innovative technology that's seamlessly integrating virtual reality into our daily lives, whether it's for gaming, movie viewing, fitness, or simply the pleasure of immersive digital exploration.
The unique value proposition of the Quest 2 lies in its exceptional convenience and affordability while delivering high-quality visuals and immersive sound. The freedom it offers from complicated setups and tangled cables is noteworthy. It's a standalone system that's designed with the needs of a wide range of users in mind—from gaming enthusiasts and film lovers to fitness buffs and curious technophiles. Quest 2 is not just reshaping our digital interaction; it's revolutionizing how we game, learn, and even exercise, taking these activities to unprecedented levels of immersion and engagement. As we stand on the threshold of this brave new world, the Quest 2 invites us to step in, explore, and redefine our digital experiences. As we conclude this journey through the marvels of the Quest 2, it's evident that the future of virtual reality has arrived, and it's not just promising—it's truly exhilarating.