The metaverse is one of the fastest-developing technology sectors expected to reach a market size of almost USD 1.3 bn by 2030. Despite its many promising applications, the gaming sector is still the center of the metaverse today.
With the current market size standing at USD 26.7 billion in 2021 and projections expected to reach USD 400 billion by 2030, it's hard not to see the entire sector utterly transformed in the near future. 
Since the rise of decentralized finance in the crypto-gaming industry, blockchain-based games have become increasingly popular among gaming enthusiasts and content creators.
The technology enables cryptocurrency and NFT integrations, granting players and creators new possibilities to earn money playing games and selling their creations to other players. They can trade their assets in the same game or on other NFT marketplaces.
What are metaverse games?
Metaverse games are fully immersive blockchain-based 3D games that allow players to interact with each other in real time through their own avatars.
Many such games involve the use of a VR headset and other gaming accessories to provide a more immersive experience for the players. These games have a few key characteristics:
Multi-player – allowing players to interact with each other, build relationships, and invite friends from real life to join them in the metaverse ecosystem.
Multi-platform – allowing asset portability between platforms that use NFT technology. The players can transfer their NFTs created or acquired in-game to other digital environments.
Play-to-earn – enabling players to earn crypto money by playing games or engaging in profitable events, or by monetizing their creations and NFTs.
How to play games in the metaverse?
Despite what some might think, playing games in the metaverse is pretty easy. Some metaverse platforms require you to download software to play, others are browser-based, and you will only need a reliable internet connection and a computer.
Other games require a VR headset and other accessories to play. You will also need to connect your crypto wallet to ensure all transactions have a safe place to be stored.
What is the best VR headset?
Thanks to their technology, VR headsets offer the best 3D experience to players. You will be asked to install an app for a compatible platform to connect the headset.
The VR headset might come with a set of accessories to elevate your gaming experience in the virtual world. It's an investment worth making if you want to experience firsthand what the future will look like.
With the following VR gaming accessories, you will experience the metaverse in the most immersive way:
With 1832 x 1920 pixels per eye, Oculus Quest 2 VR headset by META allows one to enjoy all sorts of multiplayer games, including productivity apps and 360 videos in all their splendor. The headset is easy to set up and safe to use.
Because nobody likes to play in a brightly lit room, the illuminator is a great accessory to track your movements in the dark.
Built with three silicone tips and double drivers for superior audio, these earphones block external noise and deliver the best immersive audio gaming experience.
These cables are needed to ensure connectivity between the headset and the computer. Available in different lengths, the right cable will ensure your movements are not hindered.
What are the best metaverse games for 2023?
Here's a list of the best metaverse games to play in 2023: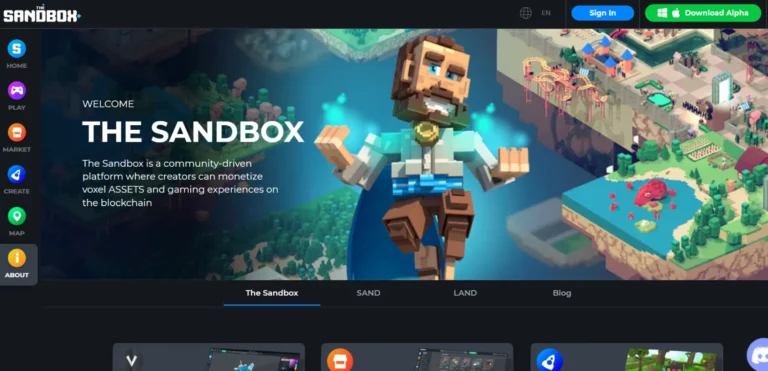 The Sandbox Game is an Ethereum-based play-to-earn game created by Pixowl back in 2012. In 2018, the game was bought by Animoca Brands, who adapted it to become an interconnected community-driven, multiplayer, and multi-platform virtual world.
The technology enables gamers to create their own NFTs and trade them inside the game or on the marketplace using the platform's main currency – SAND token.
The Sandbox has three main tools:
VoxEdit – allows users to create in-world assets like wearables, people, vehicles, accessories, and other items.
The Sandbox Marketplace – the place where creators can sell their NFTs.
Game Maker – the software that allows gamers with no coding skills to create 3D games and experiences for free.
Axie Infinity is an Ethereum-based play-to-earn pet community game launched in 2018 by the vietnamese studio Sky Mavis, where players can create cute monsters called AXIES and use them to breed, explore, hunt treasures and battle each other.
Axies are available in over 500 customizations and can be minted as NFTs to be traded on the marketplace using the platform's currency Axie Infinity Shard or AXS.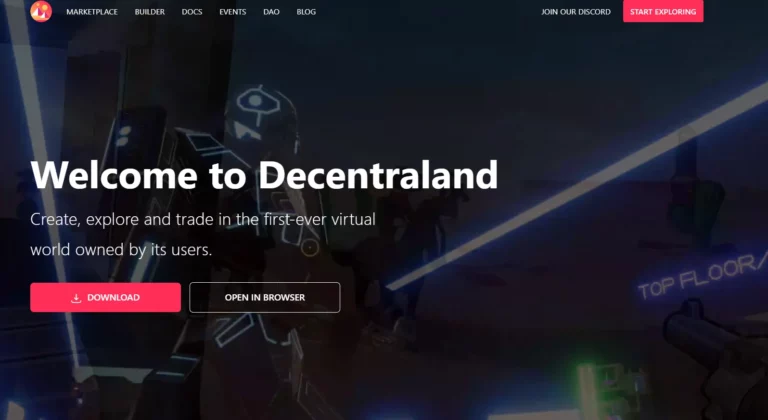 Decentraland is another Ethereum-based game created by the Argentinians Ari Meilich and Esteban Ordano and made public in 2020.
It allows players to experience its virtual land through their own avatars, and contribute to the platform's ecosystem by creating their own content in the form of assets, land or experiences.
The platform enables users to trade their own asset creations on its native marketplace, and trade digital plots of land using three tokens LAND, ESTATE and MANA (Decentraland's cryptocurrency).
The company is governed by its users through a decentralized autonomous organization or DAO.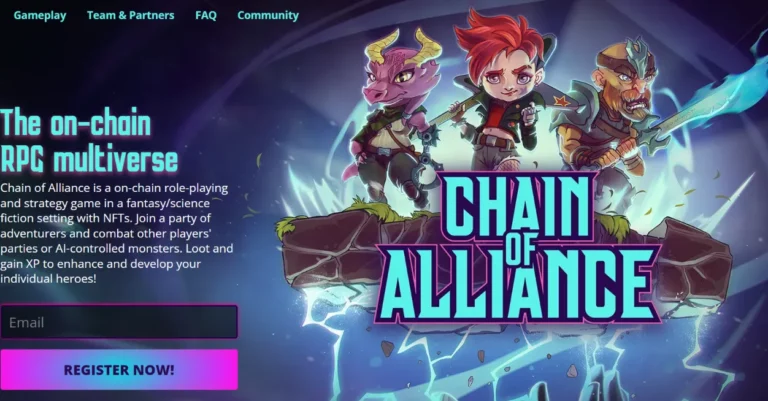 Chain of Alliance is a multiplayer strategy NFT game built on the Chromia blockchain and made public in 2020. The game allows players to customize their fantasy creatures and use their strategic skills to gain advantage in the automatic battles against a random opponent.
The platform allows up to 8 players from your team in the field. There are three ways players can earn in the game – by participating in competitions and tournaments and earning rewards, by setting up different kinds of facilities for other users and by creating their own assets and monetizing them using the platform's currency $COA.
The creators of the game are currently working on new features and the possibility to distribute tokens from time to time during gameplay.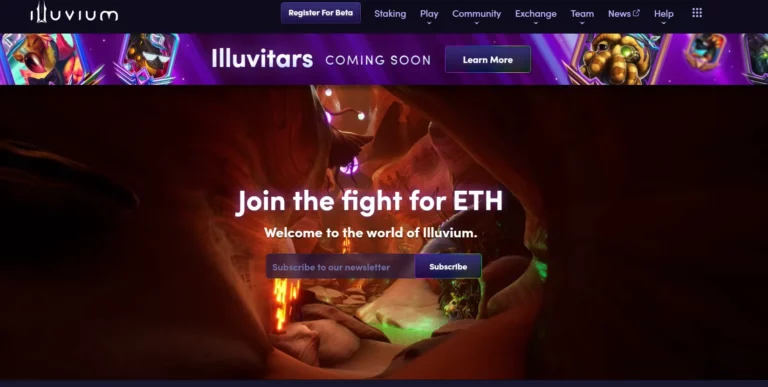 Illuvium is an upcoming Ethereum-based, open-world and role-playing (RPG) game that allows the players to experience the digital world of Illuvium consisting of 7 different landscape and hunt in-world assets such as native fantasy creatures called Illuvials and other collectibles or items to be used to participate in battles and quests.
The game features over 100 Illuvials (Water, Earth, Fire, Air and Nature) broken down into five classes – Fighter, Guardian, Rogue, Psion and Empath, each with their own characteristics and strengths.
All in-world assets come in the form of NFTs, which means they can be traded on the platform's native marketplace IlluvDex or other NFT marketplaces.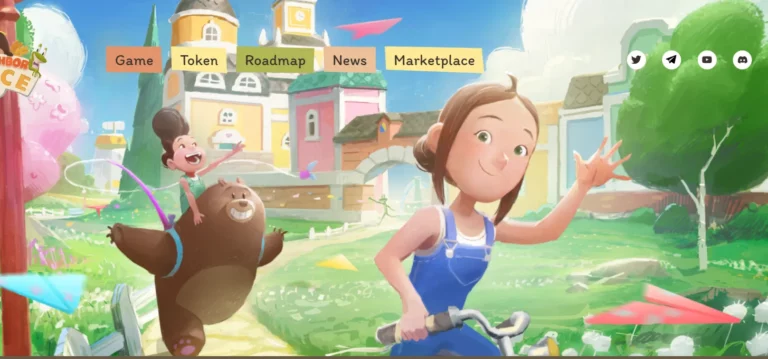 My Neighbor Alice is a game masterminded by Antler Interactive running on the Chromia blockchain. This multiplayer game allows non-crypto players who are new to NFTs to buy and own virtual plots of farming lands and islands maintained by Alice.
The players can build and collect assets like animals, plants, decor, houses, and others, and interact with other users inside the game's virtual world. They can also trade their NFTs on the platform's marketplace.
In the game, the players can engage in daily activities like beekeeping, farming, gathering insects and fishing, and earn rewards. All players interact with other players through avatars.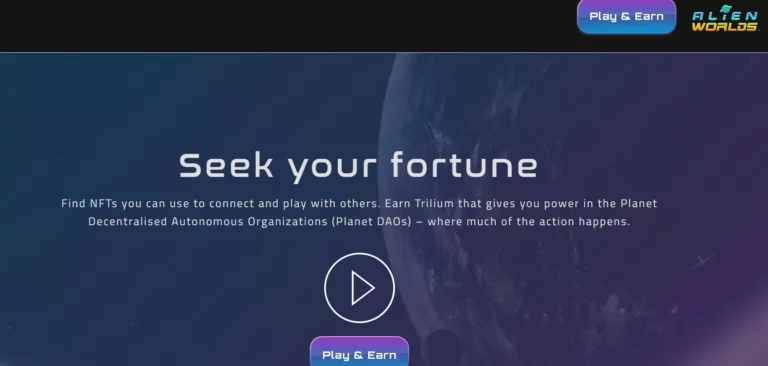 Alien Worlds is a play-to-earn game built on WAX blockchain and made publicly available in 2020. The game's ecosystem consists of six worlds, and each of the worlds has 500 plots of land (NFTs) owned by players.
The platform uses Trillium or TLM currency, which can be earned in-game and through a staking system. Many features are still under development such as planetary governance and the arena fighting game.
Prospectors is a multiplayer online real-time economic strategy game based on the EOS blockchain where you can mine, build, produce, trade, unite and earn inside the game's virtual world.
The game takes place in the 19th century Gold Rush epoque where players can experience the life of a gold miner striving to get rich, and they can earn crypto gold rewards using the game's currency PGL.
In the game, you can extract various resources such as gold, wood, clay, or mine minerals with bare hands, and more, and you can sell them to other players.
Krystopia is a 3D puzzle adventure game that takes the salvage operator Captain Nova Dune to the planet Krystopia after picking up a distress signal.
The game is broken down into four chapters consisting of different escape room-style puzzles and encounters with native inhabitants of the virtual world.