On the 13th of October, 2020, Oculus released its newest virtual reality headset – Oculus Quest 2. This VR set is an enhanced version of its predecessor, and it comes with new exciting features! 
Oculus Quest 2 is better, newer, and cheaper than Oculus Quest 1. 
When unboxing this standalone VR headset, you will find the VR headset, 2 hand-tracking controllers, a charging cable, a power adapter, and a glasses spacer. 
Introducing Oculus Quest 2: The Future of VR
You can see the wireless standalone device Oculus Quest 2 as a portal to the metaverse. And while some might argue that VR hasn't reached its peak yet, with the Oculus Quest 2 – VR might become our present sooner than we initially thought. 
The idea behind the metaverse is a social augmented reality world, where we will be able to play, communicate, and work with each other in another dimension. However, it will definitely take some time for this idea to become a reality.
What we've got so far is a rather disconnected VR environment but a VR dimension nonetheless. Although Oculus Quest 2 is mainly designed for gaming, we're looking forward to seeing the transformation of the device towards other non-gaming activities. 
What that said, you will be able to dive into the metaverse by simply putting on the Oculus VR headset. 
You can play fantastic VR games with this gadget and boost your excitement level while doing so. You may also utilize social VR applications to socialize with your pals or do business with your coworker or employer, although these options are so far limited. Additionally, virtual fitness applications may be used to complete workouts or exercises.
Meet the Creators of Oculus Quest 2 
Oculus Quest 2 is a virtual reality headset developed by Oculus. Oculus was initially formed in 2012 under the name of Oculus VR. In 2014, Facebook, now called Meta, bought Oculus for $2.3 billion. Today, they are tirelessly working to bring the metaverse to life as soon as possible.
As a company, Oculus has developed other VR headsets alongside Quest. For instance, Oculus Go and Oculus Rift are available as well.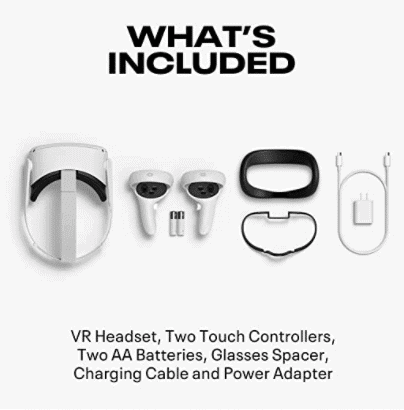 Oculus Quest 2: Tech Specs
Let's look into the tech specs of the VR beast. 
Oculus Quest 2 belongs to the all-in-one VR category, meaning that you won't be dealing with any additional sensors or getting tangled with tons of cables. 
The two touch controllers have inside-out tracking options, 6DOF, and are known for their great motion detectors. However, they work on AA batteries, which we find to be a bit odd.
The fast-switch LCD panel has a resolution of 1832 x 1920 per eye, and the VR headset is comfortable to wear with glasses too. 
Oculus Quest 2 has integrated personal audio, and it offers a battery life of 2-3 hours. Although that might not seem like much, most people don't find VR headsets enjoyable after 3 hours of heavy gaming sessions either way. 
The wireless VR headset is packed with a Qualcomm Snapdragon XR2 processor, 6GB of working memory, and it comes with 2 storage options: 125GB and 256GB.
It can work with a 72Hz refresh rate, although it can be manually configured to 60Hz as well. 
Oculus Quest 2 AppStore
In order to game, socialize, watch movies, or dance to your favorite song – you need to access the app store of Oculus and download the application that will allow you to do so. 
You could even watch and create 360-degree videos, which will make you feel like you're part of the scene. 
The official Oculus Store features both free and paid applications, and you'll have plenty of options to choose from. If you cannot find the app you were looking for, you might want to look into the SteamVR or Viveport app stores.
However, in order to do that, you'll need to connect your VR headset to your PC via an Oculus Link or a Virtual Desktop. 
Popular Game Titles
The list of popular game titles is endless. You can choose from various categories such as adventure, racing, horror, shooting and gunfight games, educational apps, fitness apps, networking apps, and many more!
Facebook has previously partnered with gaming behemoths like Ubisoft and EA. This implies the very next occasion you access the gaming catalog; you will be greeted by the best console games in the industry. 
There are upcoming game titles that will be unique to Quest 2 as well!
You could even find some meeting and collaboration tools, as well as flying simulators.
The list of applications is immense, and it is worth mentioning that new apps are being added each day.
Oculus Quest 2: Wireless vs. Wired Experience
Oculus Quest 2 runs on its own OS, and it has onboard storage capacity for apps and games – making it a fully standalone device. 
Combining the tiny headset, the ease of use, the outstanding quality, and the reduced pricing has made the VR industry far more affordable and reachable.
However, if you link it to your computer, it becomes much more powerful. Combining the GPU processing capabilities will enable you to generate lifelike pictures that are otherwise too large for the integrated mobile CPU to handle.
To do so, you'll need a USB-C cable or a 5GHz Wireless adapter to attach your Quest 2 to your computer or game console. As a result, your virtual reality headset will gain access to the best video games and applications available.
Should I buy Oculus Quest 2?
Oculus Quest 2 supports seated, standing, and room-scale options for the best experience! 
If you decide to opt-in for the room-scale play, you should have at least a 9 ft x 9 ft space and a 7 ft x 7 ft playable surface, where you'll be able to move without any obstacles.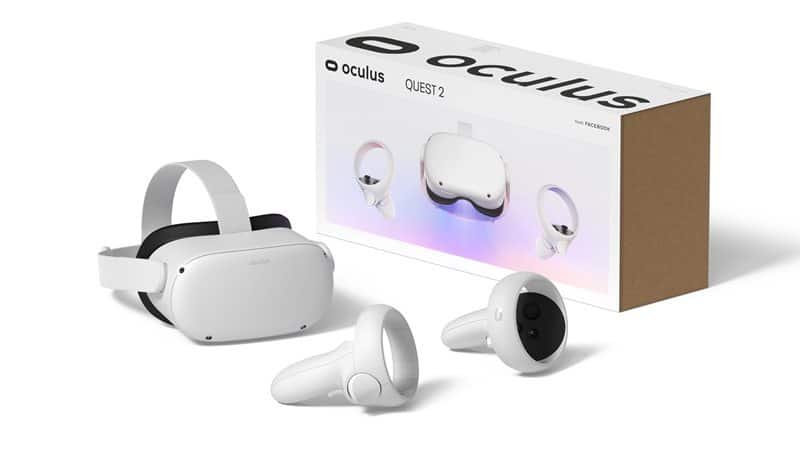 When standing, you will not be asked to move your legs, but you will be able to use hand movements, as well as to lean on the side. And while seated, the only thing you need is a comfortable chair, and you can let the adventure begin!
Now, if you were contemplating whether you should get Oculus Quest 1 or 2, the modes haven't been much of a deciding factor, as they both support the 3 modes. 
However, there is a significant difference in the resolution that Oculus Quest 2 offers. In fact, it has doubled since its predecessor. Additionally, Oculus Quest 2 has greater processing power too.
What is the Next Step?
If you've already bought the Oculus Quest 2 and you're not sure where to go from there – you are not the only one. 
We haven't been accustomed to VR headsets; therefore, not knowing how to set one up is normal. 
The initial step you need to take is to grab your phone and install the Oculus App, which you can find on Google's Play Store or Apple's App Store. 
Once you have the application, you can choose to watch the step-to-step guidelines, which are rather detailed, and you will have your Oculus Quest 2 set up in no time! 
You can also find the detailed guidelines on the official site of Oculus! 
Pricing 
The prices of Oculus Quest 2 vary depending on the market, the store, as well as the storage options. 
Nevertheless, Oculus Quest 2 remains one of the best and most affordable virtual reality headsets, as the base price is $299 in the US and £299 in the UK! 
For an extra $100 dollars, you can purchase the 256GB version of Oculus Quest 2. 
Paying extra hundred bucks might not seem like a necessity, but the extra storage will be worth the money!
Final Verdict
Oculus Quest 2 is one of the newest additions to the VR world, and it's a budget option! Cheaper than its predecessor, Oculus Quest 2 has been setting new industry standards. 
The VR set is great for gaming, as the hand tracking controllers are built to perfection. 
However, if you're looking for a premium VR headset with rechargeable batteries, you might want to consider other options first. 
FAQ 
Where can I buy the Oculus Quest 2?
You can buy the Oculus Quest 2 at the official website of Oculus or in a variety of physical stores that sell VR gadgets. However, their availability is not as great as we'd like, as VR gadgets are still not as commonly used. 
What does Oculus Quest 2 look like?
The modern design of the Oculus Quest 2 makes it look like a gadget from another dimension! The lights only add to the out-of-this-world look! The device comes in different colors, and you can see each one on the official site!
Can I use my Oculus Quest 2 device without a Facebook account?
Unfortunately, a Facebook account is a must when it comes to Oculus Quest 2. However, if you already have an Oculus account, you could keep on using it until 2023. From 2024 onwards, all Oculus accounts will be phased out.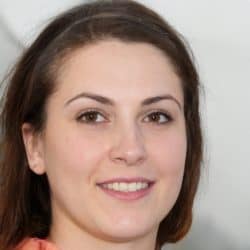 Latest posts by Lara Raven
(see all)