The Best Oculus Quest 2 Cases – Staff Picks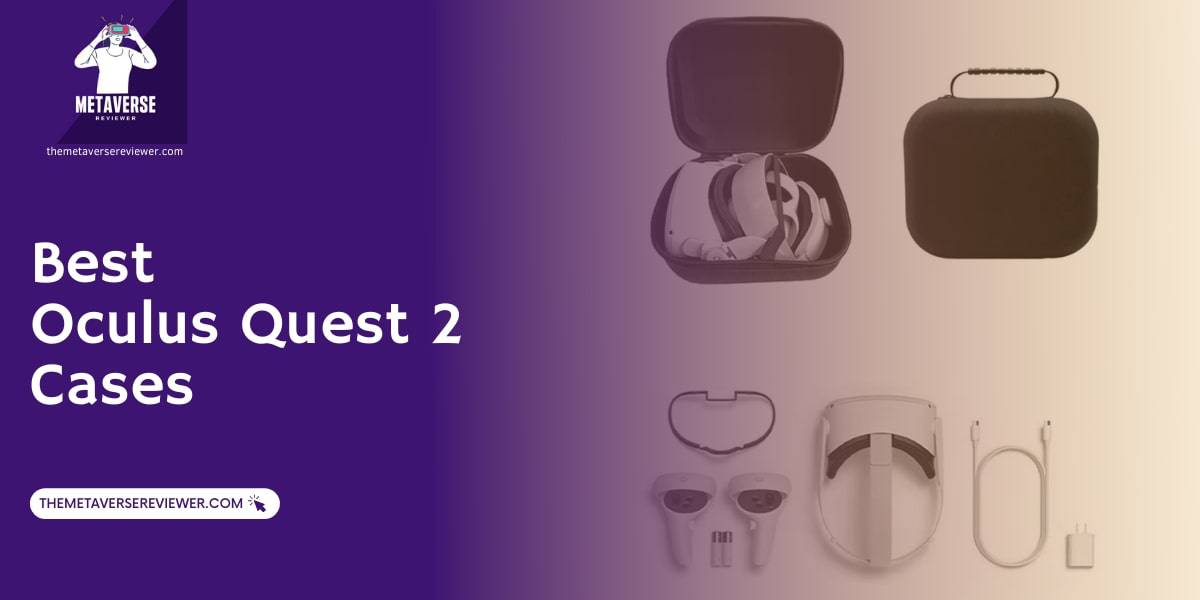 Disclaimer: This site may contain links to affiliate websites, which we may receive compensation if you purchase these products 
If you bought yourself a brand-new Oculus, you should already know how sensitive the gear is.
Having a protection case is essential as most modern equipment is fragile and can easily break. 
Protective cases are not expensive, and can protect your gear from outside factors.
Even if you keep the Quest 2 at home, it's still vulnerable to sunlight, dust, and other outside factors that might damage it in some way.
This brings the question, 'Is the quest 2 carrying case worth it?' We will do our best to answer that and more questions related to Oculus 2 Quest protective cases.
To make it easier for you to find the right one, we prepared a list of the top Oculus Quest 2 cases.
In this review, you will find information on which cases are the best, how we rank them and are cases worth it after all. Let's jump right into it, folks!
Which Cases are Best For Oculus Quest 2?
If you've been asking yourself, "How should I store my Oculus Quest 2", then you've come to the right place.
However, there are many protective cases that are dubbed as 'the best' ones, but that's not always 100% true.
There's plenty of options with different features and it all comes down to you personal preference. 
For us, the best case turned out to be the CASEMATIX Hard Case for Oculus Quest 2. This is a durable case, with a hard cover on all sides, and it's a literal case where you can store the VR set and all of its elements.
More on the specifics on CASEMATIX in the continuation of the article below.
Now, let's see how we rank all these cases and show you how to choose the one that suits you the best.
How Do We Rank the Top Oculus Quest 2 Cases
On the market today, there are hundreds of protective cases, which more or less, serve the same function – to protect your Oculus VR headset from damage.
The way we rank these protective cases is by their specifications, materials, and size.
The Oculus quest 2 carrying case for lightweight travel is one of the primary aspects, as cases shouldn't be heavy for the person carrying them.
The size matters, as not all cases are the same. Some of them have space only for the Oculus Quest 2 headset, while others have room for its charger and other components.
In most cases, the bigger protective cases have a higher rank, simply because you can store more elements in them and carry them with you anywhere.
The outside quality of the case is our top priority.
Most of the cases on our list are with hard coverage because it gives extra protection from falling, as it absorbs the fall and the VR headset remains untouched.
Does Oculus Quest 2 Need a Case?
Yes, all the time, no matter if you keep it at home or carry it with you. Like with any other tech equipment, the Oculus VR headset can be damaged by various factors.
With this in mind, you should always carry it in a protective case, because let's be honest here, you are not planning to buy a new headset any time soon. 
8 Best Oculus Quest 2 Cases for 2022
Below, you'll find a list of the top Oculus Quest 2 VR protective cases, and we hope our selection will help you pick the best case for you!D
1. Procase Hard Travel Case
The Hard Travel case from Procase should be on top of your list if you're looking for premium quality and space for other elements.
The case has dimensions of 15 x 10.9 x 5.1 inches, and it weighs 1.9 pounds. Along with the case, you will receive a shoulder strap, 2x velcro cable ties, and a Mesh bag.
The inside features a soft velvet lining with room for Oculus Quest 2 and all of its accessories.
The inside of the case is specially made for extra protection of the gear, but the problem that comes with Procase is the weight, and its somewhat bulky design.
This is not ideal for those who frequently travel and carry their headset with them. 
The case can be accessed through two zippers, and each zip has a looped handle, making it easier to use.
The controllers of the Oculus are secured with velcro, which fixates them, preventing them from roaming around the case while walking.
2. Linkstyle Hard Travel Case
The Linkstyle rugged Travel protection case is one of the most common ones on the market. 
It has a basic look, without too many details, as the designers wanted to keep things as simple as possible. 
The dimensions of the Linkstyle Hard Travel case are 10x10x5 inches, making it small and compatible for carrying outside. 
The case is made from a hard and durable EVA shell that keeps your gear safe from falling, bumps, scratches, and any other potential damage.
 There's enough room for the VR headset and its controllers that are secured in place with an elite strap. 
3. CASEMATIX Hard Case
We mentioned the CASEMATIX Hard Case before, as it's our top selection.
This is our top pick because of the size, space, and design protecting Oculus Quest 2 VR headset. 
CASEMATIX should be your number one pick if you care about security that much. The dimensions of this case are significant, 16 x 14 x 6 inches, ranking it among the biggest on our list. 
There's plenty of space for the VR headset within the case, including all of its components (controllers, charger, etc.). 
There's foam on the inside, in which you can store the VR headset and its elements safely. You must be careful with the foam as if you damage it, and there's no going back. 
The one downside of this case is its weight. This is one of the heaviest cases on our list!
Regardless, if you ever thought of an answer to the question 'where should I put my VR headset?' you probably meant CASEMATIX.
4. SARLAR Hard Chest Shoulder Backpack
If you don't want carrying cases in your hands, then SALAR hard chest shoulder backpack is the dream pick for you. 
The backpack solves your problem of carrying your Oculus with style, as this is not just a 'normal' backpack. 
The material that SARLAR is made of is waterproof, wear-resistant, and practical for cleaning.
Inside the backpack, you'll have plenty of room to store every element of the gear. 
To further sweeten the deal, you will receive two Oculus earbuds, a controller grip, and a cloth to wipe out the lens of the VR. 
The bag also comes with a USB charging system, but you must use your own Oculus Quest 2 charging cable. 
5. Hijiao Hard Travel Case
The Hijiao Hard Travel case has a very similar style to the first one on our list. The Hijiao travel case weighs 1.5 pounds and has dimensions of 16.8 x 13.4 x 4.5 inches. 
You will also receive a lens protection pad, adjustable shoulder strap, and one velcro cable tie along with the case. 
Additionally, unlike most of the carrying cases that come in gray or black options, the Hijiao hard travel case comes in all black, gray, blue, as well as purple, yellow, and red patterns. 
The case features the same structure as the Oculus Quest 2, as it fits perfectly in it. 
Additionally, the travel case comes with zipped pockets on each side of the case and one extra side for spare cables – just in case, you may say.
6. KISLANE Carrying Case
You should know that the best cases for Oculus Quest 2 are not cheap, but they always deliver the much-needed safety of the VR headset. 
To avoid paying a high price for something that offers the same protection and features as any other case, try using KISLANE. 
The KISLANE carrying case for Oculus Quest 2 is cheap, durable, and not too heavy. 
KISLANE offers a low-cost, no-frill alternatives to any other Oculus Quest 2 case. 
Unfortunately, KISLANE does not come with protective lens coverage, nor does it have hard exterior to protect your headset from damage. 
Still, KISLANE has an inside pocket for cords and an elastic that's used to hold the VR in one place. 
This all-in-one carrying case has a mesh zip pocket for carrying your accessories and designated space for the headset with elastic straps. 
7. Enjovdery Compatible for Quest 2
If you are looking for something that is made out of waterproof and durable materials, Enjovredy is what you need. 
The case is made from an impact-resistan, hard EVA that will protect your Quest 2 from any damage. 
The interior of the case is specially tailored to store your VR headset and its essential accessories. 
It can also prevent your set from being scratched because of its soft materials that are lining it. 
As extra, there's a small drawstring bag to store any additional accessories. 
As for the lens, the case contains a protective band, keeping it safe from everything. 
Quite similar in design to the Hijiao case, this one also comes in a variety of colors and patterns, to truly ustomize your experience with it. 
The hand case is designed to be practical and lightweight for carrying anywhere without worrying about the safety of your precious VR headset from Oculus. 
8. Oculus Quest 2 Carrying Case
Now, this small 'thing' here is among the most commonly found protective cases for Oculus Quest 2 VR. 
This is one of the obvious choices for many Oculus users since it's everything you'll ever need for such a VR set. 
You might be wondering "Will Quest 2 fit in Quest carrying case?" Yes, it will! The case is big enough to fit the VR headset and its controllers, and you may even manage to squeeze in a cable or two in there. 
The case is designed in a capsule-like shape and can easily fit anywhere in your room.  
The case comes with a single zip, and can also fit an Elite Strap, and a battery, however, there are no accessories that come with it – it's the most basic case you can get on the market today.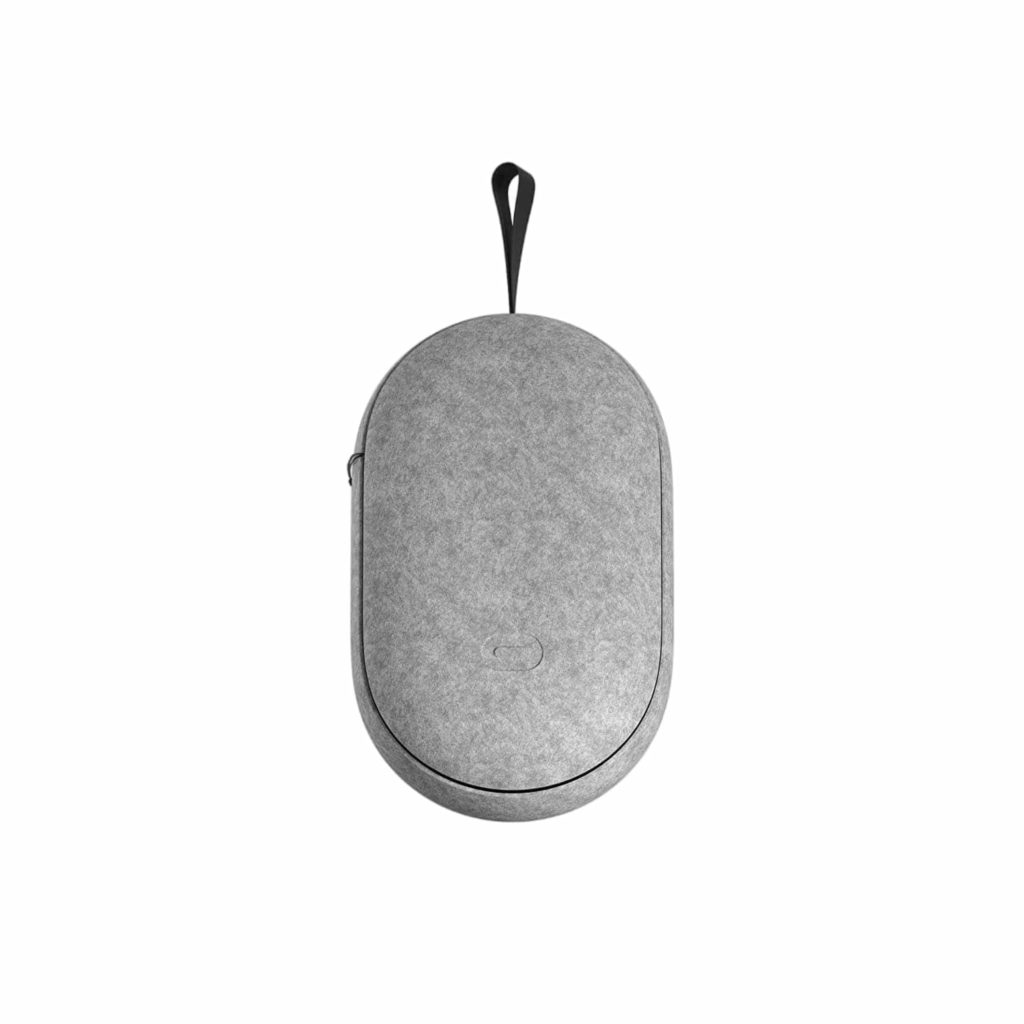 Which One to Choose for your Oculus Quest 2?
Now that we've reached the end of the journey, the question 'which one to choice' remains.
Since people have different tastes in cases and understandably different budgets, there's no ultimate answer to this.
For instance, if you prefer huge and heavy bags, find yourself something like CASEMATIX, something in which you can store everything Oculus-related elements.
Some people would like to have something smaller in their hands, and for this reason, they opt-out out use something like the Hijiao product or the basic Oculus Quest 2 carrying bag. 
Think about what you need the case for: do you travel a lot and like to carry your VR with you? Or maybe you just need a safe storage in your room. Depending on what you need from the protective case, you'll be able to choose much easier. 
Additionally, if you do need it for transport, you need to think about the method of carrying.
Do you need a backpack style case, over the shoulder strap, or a more traditional briefcase style?
Convenience and protection is what you should be looking for, and luckily, all of our choices are the perfect balance of that. 
Our Final Thoughts
Congratulations, this is the last segment of our article folks.
We've managed to present some of the most reliable and affordable Oculus Quest 2 protective cases, including some of their details such as dimension and extra features.
Since the choice is getting bigger by the week, we hope that our list will guide you as you pick your next Oculus Quest 2 VR protective case. 
Hopefully we also managed to narrow down your choice to the very best and you're now ready to buy it. Happy Hunting fellas!