Best VR Headsets for VRChat
Disclaimer: This site may contain links to affiliate websites, which we may receive compensation if you purchase these products 
These days, it is simply impossible to be alone with the endless possibilities that technology offers us. Highly-developed social platforms allow socializing with people worldwide, even in a virtual environment. They offer all kinds of fun with friends and almost real-life experiences that can provide a thrilling ride. 
In-person interaction with people around the globe is made possible with VRChat, a social networking platform allowing the best virtual experience ever. 
Choosing the right headset for the best VR experience may be challenging, but we took it upon ourselves to help you make the right choice. Before we go on and compare different VRChat-compatible headsets, let's take a look at what VRChat is and what it offers. 
What is VRChat?
VRChat is a free VR social networking platform and MMO that offers plenty of fun. Interact with players anywhere and at any time of day, or use the amazing possibility to explore dreamlands and 3D avatars. 
To endure the VR experience, you'll need to use one of the best VRChat-compatible headsets. The graphic design allows striking similarity between characters and avatars. There is flawless coordination of lip-syncing and gestures, which immerse players in a fantasy world they wouldn't want to leave. 
VRChat is a free VR social networking platform and MMO that offers plenty of fun, and for optimal enjoyment with virtual friends, the choice of the best VR headset, including options compatible with smartphones and iPhones, becomes crucial.
Having this in mind, which VRChat headset is the best to use while having fun with your virtual friends? We have narrowed down our choice to the 5 best VR headsets for VRChat.
Top 5 VR Headsets for VRChat 
To make the best choice that will meet our needs and requirements, we need to know what each headset offers. Let's take a closer look at each of them separately and see what's on the table.
| | | | | | |
| --- | --- | --- | --- | --- | --- |
|   | Oculus Rift S | Oculus Quest 2 | HTC Vive Pro | Valve Index | Samsung Odyssey |
| Manufacturer | Oculus VR and Lenovo | Oculus | HTC | Valve | Samsung |
| Display | Fast-Switch LCD 2560×1440 (1280×1440 per eye)  | LCD (1832 x 1920 per eye) | LCD 2880×1700 | LCD 2880×1600 (1440×1600 per eye)  | LCD 1440×1600 |
| Refresh Rate | 80Hz | 90Hz | 90Hz | 80Hz, 90Hz, 120Hz, experimental 144Hz | 90Hz |
| Field of view | 115 degrees | Estimated 90 degrees | 110 degrees | 130 degrees | 110 degrees |
| Price | $400-$500 | $400-$500 | $799 | $999 | $399 |
1. Oculus Quest 2
As we mentioned, Oculus has been one of the top players in VR, so we decided to pick another product that we feel deserves to be on this list. The Oculus Quest 2 may be similar to its sibling Oculus Rift S, with the advantage of being a wireless VR headset. Of course, there is an option to attach it to a PC if you wish to use the advanced graphic processing of your computer.
One of the huge downsides is that you won't be able to play with PC-connected players and the system will be dropping frames as new and graphically complex games come out. There is also a lower battery life, which allows only 2.5 hours of play. 
| | |
| --- | --- |
| Pros | Cons |
| Wired and wireless mode | Incompatible with VRChat PC Content |
| Accurate motion tracking | Low battery life (around 2.5 hours) |
| Very easy to set up | Meta account needed for activation |
| More affordable than other headsets |   |
The simplicity and mobility freedom that this VRChat headset allows may be just what you are looking for. However, because of its wireless mode, some titles may not be available for it.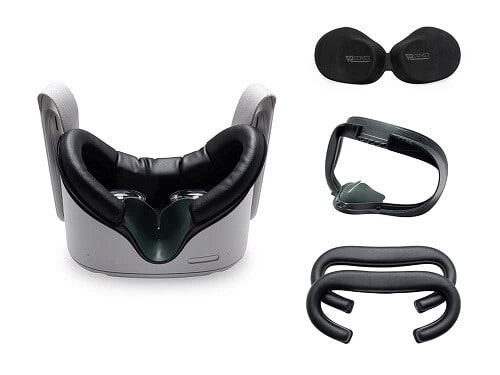 2. HTC Vive Pro
This is a very popular VR device in the gaming world that allows access to numerous games and excellent gaming interaction. It has a wide motion range and high tracking accuracy and offers an exciting, immersive experience. Plus, the high-quality controllers fit perfectly in your hand.
HTC Vive Pro is designed to offer complete visual continuity and stunning video quality. It is a device that fits comfortably and is a favorite among users – not just because of its visuals but also due to its great audio quality.
However, you'll also find a lot of noise about its price range and setup.  
| | |
| --- | --- |
| Pros | Cons |
| High visual quality | A rather high price range |
| Excellent speaker technology | Difficult to set up |
| Overall immersive experience | Not suitable for beginners |
| A wide field of vision |   |
Although it's on the expensive side and is a bit more challenging to set up, HTC Vive Pro has a lot to offer. Sometimes choosing the more expensive headset may be well worth the money spent if it provides the VR experience of a lifetime.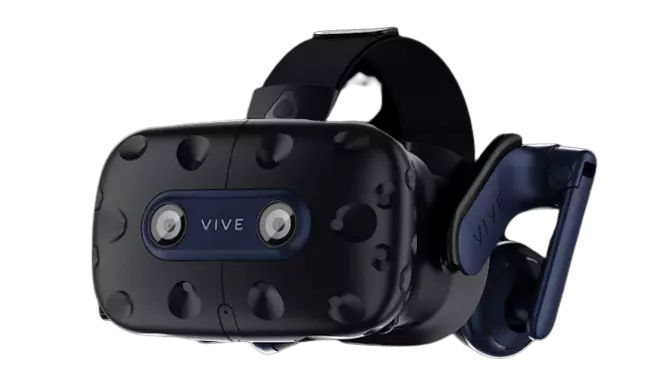 3. Valve Index for VR Chat
If you are looking for a headset offering the best LCD panels and refresh rate, this is the one for you. With a 144Hz refresh rate, Valve Index may be a bit pricey, but it is worth it. With the use of speakers positioned in a way to aim directly into the ear canals, Valve offers a superior audio experience.
The excellent controller design allows for great maneuvering, only contributing to the overall life-like gaming feeling. Simply use the adjustable strap to make them fit and let the sensors detect the movement of your fingers. 
| | |
| --- | --- |
| Pros | Cons |
| Premium controller design | High price range |
| Superior integrated audio system | Needs base stations |
| Excellent motion tracking and image quality | Difficult to set up |
| Top-of-the-line display with 144Hz refresh rate |   |
With Valve Index, you get what you pay for. Its price may be a bit out of the average budget, but you'll get top-notch image quality, excellent motion tracking, and the best overall experience. It may be difficult to set up, but that shouldn't stop you from getting the most out of the VR experience.
4. Samsung Odyssey for VR Chat
This VRChat headset offers an overall great virtual reality adventure. It has built-in mics and speakers, and the OLED screen provides crystal-clear image quality. The high screen resolution and the customizable lenses for manual adjustment of the pupils' distance are great advantages boosting your stay. 
It is a rather simple device with standard controls that offer a good gaming time while in the virtual world. However, the movement controls suffer slightly due to the lack of sensors. Namely, the controllers are tracked only in the range of the front cameras, so when moving your hands behind, you may face some malfunctions. 
| | |
| --- | --- |
| Pros | Cons |
| High screen resolution | Short wires |
| Built-in audio system | Non-removable components |
| Customizable lens | Movement tracking errors |
| Smooth design |   |
Depending on what you are looking for, the Samsung Odyssey may be the choice for you. If you are after visual clarity, Samsung's high-screen resolution will provide you with that. The two wireless controllers included have superb ergonomics, but if you are after active interaction, then Samsung may not fulfill your expectations.
What to Look For in a Headset for VRChat?
When buying a headset for VRChat, you need to be extra careful to be sure you are getting the one that is just perfect. One of the first things to consider is the purpose of buying one. Are you buying it for various media and games or just for VRChat?
Next, make sure to match the hardware compatibility with the ones of the games you are planning to play. This also includes checking the PC hardware requirements and whether your computer can power the new headset. Why invest in something if the system requirements don't much?
When considering your budget, you need to know that every good and high-quality product comes at a price. If you want to get the overall immersive experience and get a top-of-the-line audio and visual system, then you should be prepared to open your wallet.
This is not to say that lower-priced VRChat headsets are not worth it, but there might be a significant performance gap.
How To Set Up Full Body Tracking in VRChat?

To initiate full body tracking in VRChat, start by acquiring necessary equipment like a VR headset, trackers, and base stations (or opt for solutions that only require trackers). After securing your gear, launch VRChat and click on "Calibrate" in the Quick Menu. Ensure your height is accurately set in Settings to avoid physics-defying floor encounters.
Calibrate your playspace by separating your feet and aligning your hip tracker and arms with your avatar. Finally, lift your head, gaze forward, and simultaneously click both controller triggers. With these steps, your full body tracking setup in VRChat is complete!

Conclusion
Buying a headset for VRChat comes down to preferences and the proper system requirements. Some offer the best audio and visual system performance, others provide mobility comfort, and some have a top-quality design of controls and other accessories. 
If you want more mobility, we recommend the Oculus Quest 2. But if you want something cheaper, then the Samsung Odyssey will do the job. And if a more life-like experience is what you're going for, the Valve Index can be a splendid choice. 
In general, all headsets we reviewed here offer an incredible VR experience that can fit the demands of all users. So pick the one that calls to you and dive into your next VR adventure!