DESTEK VR Dream – For Kids | Full Specifications & Review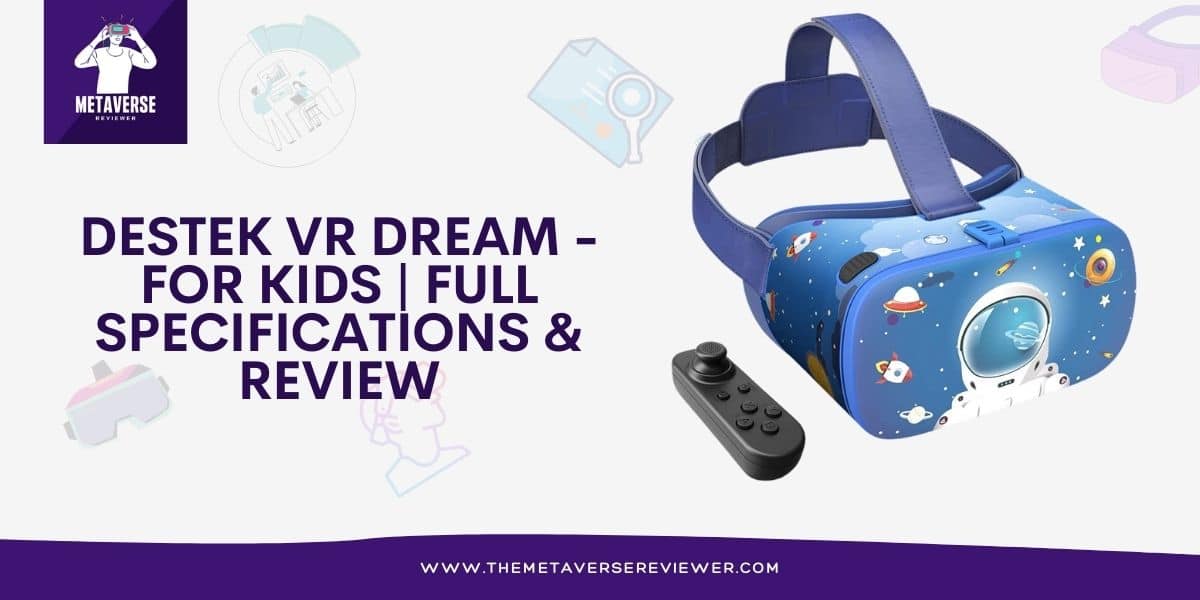 Disclaimer: This site may contain links to affiliate websites, which we may receive compensation if you purchase these products 
DESTEK VR is one of the most famous and proclaimed virtual reality headsets on the market right now. Recently, they've extended their line of products by releasing their newest product aimed at the youngest audience – the DESTEK VR Dream for kids. 
| Characteristic | Description |
| --- | --- |
| Compatibility | Works with most 4.7" to 6.8" smartphones |
| Field of View | 110 degrees |
| Lens Type | Aspheric optical resin lenses |
| Adjustability | Adjustable pupil and object distance |
| Design | Lightweight and ergonomic design |
| Comfort | Soft foam padding and adjustable head strap |
| Controls | Touch button input and gamepad support |
| Audio | Built-in stereo headphones |
| Content | Compatible with various VR apps and games |
| Connectivity | Wired connection to the smartphone |
Our society has undergone a technological advancement in the past couple of decades – encouraging a whole new world of possibilities!
Entertainment, knowledge, and information have become available at our fingertips at any given moment, and this has revolutionized the ways in which we learn and interact with each other, as well as the world around us. 
One of the most popular accessories which took simulation and artificial worlds one step further is the VR Headset. It's more than safe to say that this specific piece of technology has completely changed the way we play video games, interact online, learn, and explore the world through interactive content.
One device that took this technology a step further is the DESTEK VR Dream – a Virtual Reality headset perfect for kids. Below, we will take a deeper look into it and all of its features.
DESTEK VR Dream – The Future of Virtual Reality for Kids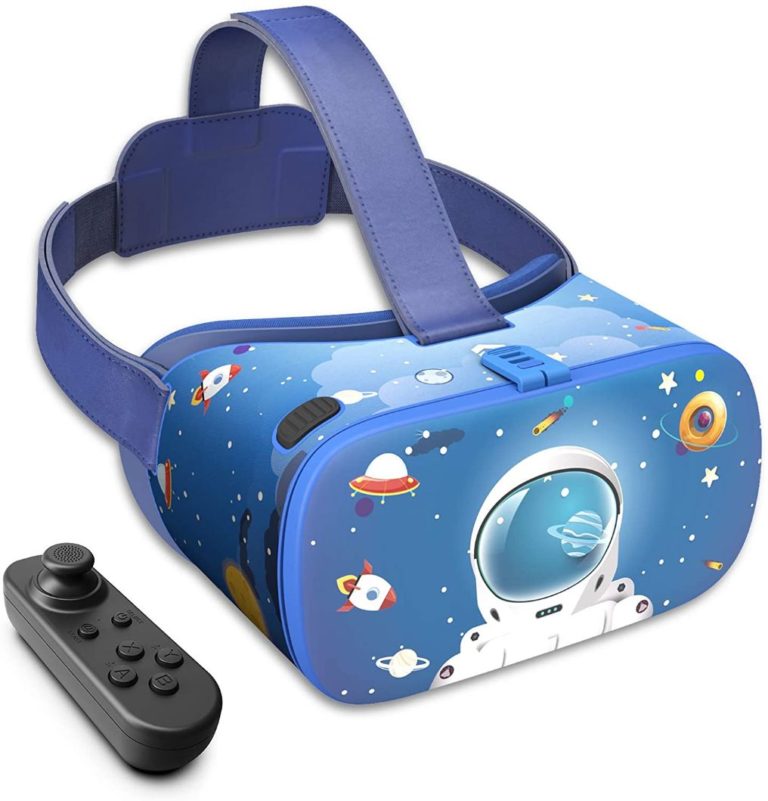 The leap in technology has mostly helped in the field of education. Nowadays, from all people, kids are the ones influenced by these technologies the most, and from an early age, they have the option to choose between various gadgets. Studies have shown that the number one gadget preferred by kids is VR Headsets.
DESTEK VR is one of the most famous and proclaimed virtual reality headsets on the market right now. Recently, they've extended their line of products by releasing their newest product aimed at the youngest audience – the DESTEK VR Dream for kids. 
Virtual Reality has a long range of practical uses in real life, and the newest addition, the VR Dream headset, is aimed at children to help them play as well as learn better. The headset is uniquely designed for kids between the ages of 5-15, is easy to set up and use, and works by pairing with a VR app on a smart device. 
DESTEK VR Dream Features 
The DESTEK VR Dream is the ultimate gift for any kid. It allows them to tap into the unexplored world of virtual reality, where they can play, learn, and have immense fun along the way. 
The device also ranks at the top among lightweight VR headsets, weighing 
approximately 10.6 ounces. It's made of a special type of plastic that's lighter than the standard one. This means that the device can be used for hours without causing pressure or strain on your head and neck. 
The Dream VR belongs in the category of inexpensive virtual reality headsets, and although meant and built for children – it's more than capable of changing anyone's perception of advanced technology. 
The device comes in a compact box with an instruction manual and a small cloth for keeping your lenses clean and shiny. 
Some of the features which make this headset stand out are its durability, build quality, as well as its easy set-up. In just a couple of minutes after opening the package, the headset is ready to transport you into the world of VR. All you need is your iOS or Android smartphone, a VR application, and you are ready! 
DESTEK VR Dream Features
Adjustable Head Strap
Adjustable Focal & Pupil Distances
Lightweight (10.6 oz)
Anti-Blue Light Lenses
Controlled via Bluetooth Remote
Compatible with most smartphones (4.7 – 7.2 inch screens)
Setup
DESTEK VR Dream - Pros & Cons
| Pros | Cons |
| --- | --- |
| Affordable price point | Requires a smartphone for VR experience |
| Wide compatibility with smartphones | May not offer the same level of immersion as high-end VR headsets |
| Comfortable and adjustable head straps | May experience light leakage from the sides |
| Easy to use and setup | Limited controller support |
| Provides a good entry-level VR experience | Lower quality lenses compared to high-end VR headsets |
| Compact and lightweight design | May not fit larger smartphones |
| Adjustable lens distance and pupil distance | May experience compatibility issues with certain apps |
| Allows for 360-degree viewing experiences | May not provide as comfortable a fit for extended use |
Similar to other mobile VR headsets, the DESTEK VR Dream is simple to set up and use. All you have to do is download a VR application to your Android or iOS smartphone, scan the QR code to pair the controller, and insert your mobile device into the removable front panel. Keep in mind that you should start the VR application before you insert your smartphone into the front panel slot. 
The headset is compatible with both large and small size smartphones, with screen sizes ranging from 4.7-7.2 inches. Some of the devices compatible with VR Dream include: 
iPhone 12/Mini/Pro/Max
iPhone 11/11 Pro/XR/X/Xs
Samsung S20/S20 Ultra
Samsung S10/S9/S8/S7 Edge
Samsung Note 10/Plus
Huawei P30
One Plus 8 Pro
It's recommended that the smartphones have a gyroscope for a 360 VR experience. Depending on the smartphone screen size, you may or may not have to adjust the focal and pupil distances using the buttons on the top right of the device. 
Comfort
When it comes to comfort, the VR Dream is made specifically for children 5-15 years of age, meaning that the plastic material, as well as face pad, are all lightweight and easily adjustable.
The outside shell of the device is made from a particular type of lightweight plastic that significantly cuts down on weight. The face pad also consists of an extra soft cushion that allows air to breathe through its pores, thus preventing sweating, odor, as well as strain on the face. 
This combination of lightweight and adjustable materials allows the device to breathe, but also makes it very light, which prevents it from straining your head or neck from using it for several hours. 
The VR Dream also features head straps, which is a usual strap found in similar inexpensive VR headsets. However, the strap on the VR Dream is adjustable with velcro and a faux-leather piece at the back, and since they are wider than other straps – this brings additional comfort to the user. 
Design 
When it comes to design, the VR Dream doesn't stray too far from its predecessors, sharing the same structure, with little size and cushion variances. 
The headset packs an overall plastic body with a foam-padded back that's covered in leather. Additionally, there is a two-part head strap. When it comes to the VR experience itself – things get interesting!
The Dream VR features adjustable focal and pupil distance, meaning that you can adjust the headset in any way possible to get that sharp and comfortable viewing angle. 
The controls are placed at the temple area of the top of the headset, granting users ease of access if they want to adjust the viewing on the fly. Knowing how detail-oriented VR gamers and professionals are, this comes as an overall great feature. 
Optics
DESTEK's image quality has never disappointed in the past, and it's more than safe to say that the case is the same with their newest VR Dream. 
The viewing angles fall perfectly, are adjustable, and best of all – they are crystal clear as expected. The field of view is approximately 83 degrees, but you can always adjust your smartphone from the inside of the front panel, using a button that raises/lowers the smartphone in order to fit perfectly within the gap and prevent even the slightest light leaks. 
Once focused properly, there are no traces of distortion, and color reproduction is on point. It's also worth pointing out that there are no traces of light leaking from anywhere around the headset, unlike some inexpensive competitor VR headsets. This is yet another advantage if you plan on using your VR headset in a well-lit room or environment. 
Additionally, it's also worth pointing out that DESTEK has utilized their brand new anti-blue light lenses that reduce eye strain and provide a prolonged period of VR time without damaging the eyes or causing severe headaches. Of course, it's always good to enable your smartphone's blue light screen filters as an additional layer of protection for your eyes. 
Audio
Just like any other mobile VR headset, the DESTEK too lacks integrated audio, which means that you will have to rely on your smartphone speakers or a good set of headphones. There are cutouts for headphones on each side of the front plate, which are meant to help you direct the sound from the speakers outward. 
In addition, there is a 3.5-millimeter plug for wired headphones. Either way, for a price this good and an inexpensive device that aims to bring you the finest mobile VR experience – this is a pretty good deal. 
But DESTEK has always aimed at giving options to its customers, which means that producing a mid-range VR without audio headphones is only leaving space for options on how you want to connect your audio with your VR experience. You can connect your phone to anything, including large speakers, earbuds, or headphones. 
VR Dream Interface
Although the VR Dream doesn't have its own interface, connecting it to your smartphone and accessing plenty of VR applications, videos, as well as video games has never been easier. All you have to do is scan the DESTEK QR code located on the inside of the front panel with your smartphone camera, and your device will be paired within seconds.
From there on, you can enter the immersive world of virtual reality and explore endless possibilities from the comfort of your own home. 
Unfortunately, this headset doesn't support the feature  "Work with Cardboard" from Google as it doesn't have a dedicated button to trigger features in Google Cardboard applications. You can still use your phone to maneuver and have a full VR experience, but keep in mind that some shortcuts won't be available while wearing the headset. 
Controller 
The DESTEK VR Dream includes a small Bluetooth gamepad. It's easily attachable to a keychain to ensure that you have it with you at all times. Weighing just 0.8 ounces, the controller is lightweight, small, and easy to handle – all while replacing a full-sized gamepad. 
To be more specific, the 3.5 x 1.5-inch controller has a single analog stick along with the Start, Select, A, B, X, and Y buttons. Pairing the gamepad with your phone is very simple – all you have to do is scan the QR Code provided on the instructions using your iOS or Android smartphone. 
The controller is responsive in each tested game, and despite its small size – it's easy to use, fits comfortably in your palm, and is overall a great addition to the package. 
Our Verdict
Virtual reality is still in its infant stages of development, but even so – its interest rate among companies worldwide is skyrocketing!
Plenty of companies offers various VR packages, each with a different set of features, advantages, and specifications. Suppose you are looking for a starting VR package for your youngest family member to fit in the standards of quality and performance without breaking the bank. In that case, the DESTEK VR Dream for kids is definitely our top suggestion for you!
With a modest price, high-quality materials, and immersive virtual reality experience – the DESTEK VR Dream is the perfect gift for children and one of the very best headsets on the market! 
The VR Dream headset features a build quality designed specifically for younger generations. In other words, the device is lightweight, has softer face cushions than most other headsets, and as a result – puts less strain on the back, neck, and face. 
Modern VR headsets are equipped with exquisite anti-blue light filter lenses which prevent eye strain from longer exposure to blue light. But even so, experts suggest users take regular breaks every 10-15 minutes to avoid any long-term negative effects.