Digital Monster Vision VR Headset for Smartphone
Disclaimer: This site may contain links to affiliate websites, which we may receive compensation if you purchase these products 
If you are done playing old-fashioned games – this is the perfect solution for you. The Monster VR headset will bring the gaming experience you've strived for to another dimension!
| Characteristic | Description |
| --- | --- |
| Compatibility | Compatible with most smartphones (4.7" to 6") |
| Field of View | 90 degrees |
| Optics | Aspheric resin lenses |
| Adjustability | Adjustable pupil distance and focal length |
| Design | Lightweight and portable design |
| Comfort | Padded face cushioning for extended use |
| Controls | Touch button input |
| Audio | 3.5mm audio jack for headphone connection |
| Content | Compatible with various VR apps and games |
| Connectivity | Wired connection to the smartphone |
"Virtual reality is a technology that could actually allow you to connect on a real human level, soul-to-soul, regardless of where you are in the world." – Chris Milk
Being skeptical about the unknown is a normal and natural human reaction. Virtual Reality spikes that feeling for countless who haven't scratched the surface of this 'mysterious' subject – and VR takes bigger steps with each passing day!
VR brings a wave of a new technological era, and it's a force to be reckoned with as no one can stop it from expanding. It keeps upgrading by the day, which is why everyone should take a look at all the 'unusual' products on the market and at least get familiar with them.
Fortunately, people who understand this technology are well aware of its benefits and extraordinary effects. If you're not one of them, or even if you are – let's dive straight into one of the latest VR headsets – the Monster – and see what it's all about! 
What Does the Monster VR Headset Include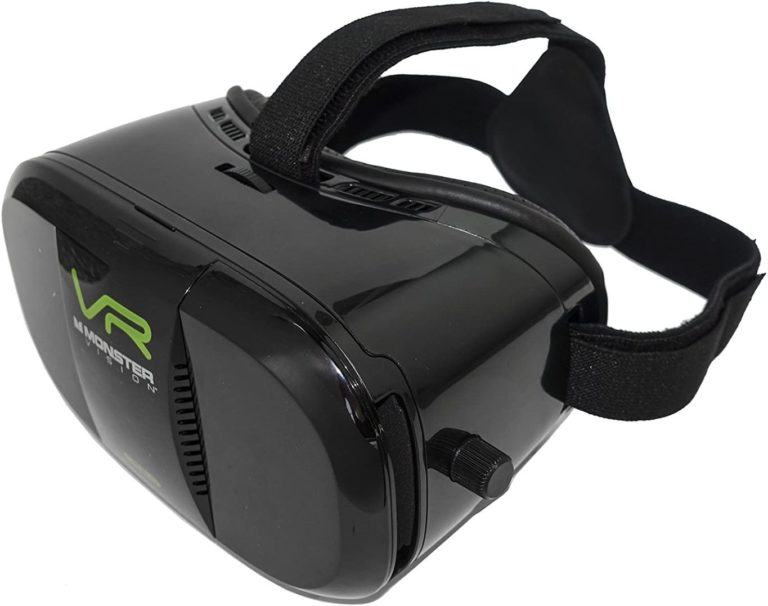 The Monster Vision VR is one of those products that will change anyone's perception of advanced technology. This headset lives up to its name as it's a monster among competitors! Although boasting bigger than average goggles – it still looks really neat and stylish. 
If you decide to purchase it, you will receive the monster digital vision VR in a compact box. On the side of the box, you'll notice all specifications and a lot of detail addressing the headset. 
Also, you will uncover a brief step-by-step tutorial with pictures about how to start using it. Inside the box of your brand new monster vision VR audio headset, you will find a bunch of things, including a VR Zone Card, User Manual, Cleaning Cloth, and the Monster VR Headset.
The product isn't very light but not too heavy as well. It's made of special ABS plastic that is extremely good when it comes to building-purpose quality. The ABS material reduces pressure on the pressure points, especially the nose. This means you get to enjoy the Monster VR for a longer period of time.
List of Features of the Monster Vision VR
There are quite a few features you will get by purchasing this product, including:
Suitable for both IOS and Android smart devices that have 4.5-6 Inch screen size, as well as maximum length and width of 4.62 X 2.46 inches.
Mobile phones you can use with the Monster VR – ASUS Zenfone 2, Galaxy Note 4 and 3, Galaxy S6, iPhone 6 and iPhone 6 Plus, Galaxy S6 Edge, Nexus 6P, HTC One Max, One M9, Xperia Z3+, and LG G3 among others.
The Monster VR box includes 3D VR Video Glasses 1x Manual, VR Zone Card, User Manual, Cleaning Cloth, and the Monster VR Headset with a remote controller.
Batteries are not included.
Material – ABS plastic.
Weight – 327 grams.
Dimensions – 20.2 x 14 x 10.2 cm.
Brand – Irusu.
Model – MONSTERVR.
The following part of our Monster VR Headset review will focus on in-depth details regarding all of the above-mentioned features, so make sure to read them carefully.
Monster VR Appearance
Users will notice the outside appearance compartments, including slots for headphones and nose area. Moreover, the manufacturer made sure you could remove the face cushion to clean it due to the dead skin cell that will eventually get stuck on it. 
Another great feature the Monster Digital Vision VR has is the individual focal length adjustment as well as the IPD (Interpupillary distance) adjustment. This makes the Monster VR fit to any face type, which is a huge plus. Another thing you can adjust is the straps on the stretchable headband.
On the bottom side of the frame of the goggles, there is a button. The purpose of this controller is to trigger various actions within the VR. The front has a compartment where you can place your mobile phone. A friendly reminder – make sure to remove the mobile case if you have it prior to placing your phone in the VR pocket. This way you will be able to slide the phone better and make it fit perfectly.
Furthermore, the product has a removable front plate with additional magnetic snap buttons. This part plays a vital role as it's used for heat ventilation. The front plate is also used for AR Apps.
Monster VR Bluetooth Remote
To turn the remote on, you should press and hold the power button for a couple of seconds. However, remember to connect it to your mobile device via Bluetooth. All you have to do is pair the remote with your phone like you do with any other Bluetooth device.
Turn on the Remote by holding the power button;
Turn on the Bluetooth on your phone;
Wait for your device to scan the surrounding Bluetooth devices;
Once your phone finds the Monster VR Remote, tap on it;
Make sure to allow remote access to your phone;
Choose 'Confirm.'
That's it – the Monster VR Remote Controller is now paired with your phone. You can now navigate through the apps on your phone by moving the 360 Roller button left, right, up, and down. Press the confirmation button to access the apps. 
The remote controller has an additional special feature through which you can get access to the Mouse Mode. To do this, you should press and hold the '@' and 'a' buttons simultaneously for five seconds.
How to Pair QR Code
If you want to pair a QR code with your Monster VR – you should download a QR code scanner from Google Play or the App Store. However, some phones already have a built-in QR scanner which means you should simply turn your camera on. Once you are settled with the QR scanner, you can look for the Viewer Profile, which comes with the Monster VR headset, on the VR Zone Card.
A good idea would be to install the Cardboard app, so all your VR apps are stored in one place. This will allow you better and easier navigation with the remote controller through the downloaded apps.
How Does the VR Product Work
Pros and Cons of the Monster VR Headset
There are certainly more pros than cons the Monster Vision VR Audio Headset has. Almost everything this review covered can be considered a pro. This includes the latest technology implemented in this product as well as the material it's made out of. 
Moreover, the additional features you get to enjoy including the action button, the removable cushion, adjustable addition, and the elastic headband are all definite pros.
However, users will always find something to complain about. With that said, we have to declare that the Monster VR has two debatable downsides. The first one is the price, while the second one is that you will have to buy your own batteries.
| Pros | Cons |
| --- | --- |
| Affordable price point | Relies on smartphone processing power |
| Wide compatibility with smartphones | May not offer the same immersive experience as dedicated VR headsets |
| Portable and lightweight | Limited tracking capabilities |
| Easy to use and set up | Lower quality lenses and optics compared to dedicated VR headsets |
| Access to a variety of VR apps and games | May not provide as comfortable a fit as dedicated VR headsets |
| Adjustable lens distance and focus | May not have advanced features such as motion controllers |
| Allows for 360-degree viewing experiences | May have limited support and updates |
| Provides an entry-level VR experience | Image quality dependent on smartphone screen resolution |
Virtual reality headsets are devices able to replace our environment with software-generated content. In order to determine your movement and monitor your activities in the virtual world, headsets use magnetometers, accelerators, and gyroscopic sensors. 
External cameras and computer systems connected to your headset can also be a part of virtual reality products. This way, you are allowed to obtain software for your VR experience or interact with other applications.
VR creators have long been concerned with the field of view. VR must mirror our field of view in order to immerse us in a new environment. Unfortunately, people have a considerably broader field of view compared to the one VR headsets can give in general. For comparison, the average person can view around 220-degrees of surrounding while virtual reality products can provide close to 180 degrees.
Although headsets cannot provide a 100% life-like experience, companies aim to improve this. With competitors pushing hard, VR manufacturers will most likely improve this technological field to new heights soon enough.
Best Monster Vision VR Games
Gaming has been a huge part of people's lives ever since Tetris made its debut. Things have changed a lot since then. Fast forward two decades, and we are honored to experience virtual reality gaming!
If you are eager to learn about the best games you can play on the Monster Vision VR – say no more! We've made a list of the most anticipated and best-looking games for all VR enthusiasts. Without further ado, let's check them out:
Bamf VR – Adventure game with a maze, exploring, and time-framed challenges.
A Chair in a Room – With its adrenaline rush, this horror game will make players jump off of their chairs.
Vanguard V – Action game packed with lots of adrenaline that takes you on a journey throughout the galaxy. This game gives off a Guardian of the Galaxy vibe, and it's worth a try.
Fractal Combat X – Specifically designed for iPhone users. This game will bring a new experience as you will become an Air-force pilot.
Whatever game you go for – Monster VR will kick your gaming experience up a notch. If you decide to give this product a shot – make sure to give us some feedback and express your opinion.
Clients' opinions
After digging through the internet to find honest opinions from clients, we've stumbled upon some interesting reviews. What we found was mainly positive feedback, although there were some minor rants regarding the price.
Nonetheless, clients who've purchased the Monster Digital Vision VR were overall satisfied. Most of them adored the look of the Monster Vision VR and claimed to be especially satisfied with the pupil and object distance adjustment features. Also, the high quality of this product made them not regret their decision to buy it.
However, there were certain negative reviews as well. Mainly, some users were furious about the price the Monster VR is sold at. This is not a justified complaint as that depends on the financial situation of each person individually. Another thing users complained about was that there were no batteries included in the box. Since this product is powered by 2 AAA batteries, many buyers expected they were included.
What's to Come From the VR world
Another essential visual aspect that defines how Virtual Reality headsets work is frame rate. To mirror what our eyes see in real life, the frames on VR machines must move at a breakneck speed. This is one of the reasons experts attempt to boost the frame rate closer to 120Hz. 
With that said, we can expect VR machines in the future to become much more powerful than the current ones. Also, they will aim to develop VR headsets that mimic our eyes as closely as possible. With the growing AI advances and machine learning, VR fans have something amazing to look forward to!