Samsung Gear 360 Review 2023: VR Promise Vs. Reality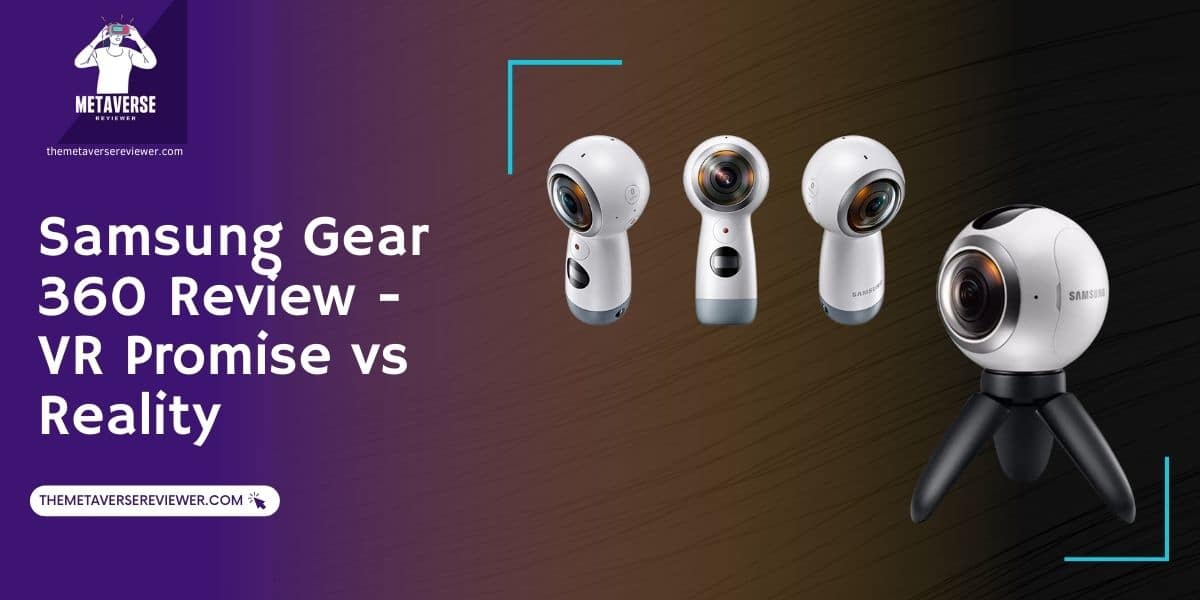 Disclaimer: This site may contain links to affiliate websites, which we may receive compensation if you purchase these products 
Treat yourselves with the fantastic Gear 360 and VR product by Samsung. Capturing the best moments of your life has never been easier and more fun to do!
| Characteristic | Description |
| --- | --- |
| Resolution | Dual 15MP cameras (3840x1920 per lens) |
| Video Recording | Up to 4K resolution (3840x1920) at 24fps |
| Photo Capture | Up to 30MP (7776x3888) resolution |
| Lens | Dual f/2.0 fisheye lenses |
| Field of View | 360 degrees |
| Storage | MicroSD card (up to 256GB) |
| Connectivity | Wi-Fi, Bluetooth, USB-C |
| Battery | 1160mAh removable battery |
| Water Resistance | Splash and dust resistant (IP53) |
| Compatibility | Compatible with Samsung smartphones and select iOS devices |
Due to its remarkable features, Samsung's newest camera gear for capturing 360 videos is receiving over-the-top reviews from customers. And that's not unusual at all – this product is one of the most innovative in its sphere! 
If you're considering purchasing a new camera, it's wise to read our Gear 360 Samsung review first and make an investment decision later. Let's now see what this top-of-the-shelf product has to offer!
Our Unbiased Samsung VR Camera Review
This year, there were a lot of innovative products linked to the new technological wave of virtual reality. As a result, creative developers provided the field of spherical imaging with a new future. Samsung's most recent remarkable piece of technology is filled with all of the wonderful capabilities necessary to shoot the best possible high-quality 360-degree video.
This time, Samsung has definitely produced state-of-the-art gear for its customers, with a robust, sleek, and strong body that can shoot amazing 360-degree videos. All of this was made possible thanks to its sophisticated fish eye lenses.
Design and Memory
This Samsung device has a compact size and a twin-lens camera focus. These compatible pieces were put together so users can enjoy recording and sharing 360 videos much more manageable. The gear 360 and VR camera has somewhat of a flat bottom side where users can connect the tripod mount.
Moreover, the device's outside appearance is both elegant and ergonomic, and there are only three buttons, including one for accessing the menu, another for power, and the third one for recording. One of the best we came across when compiling our Samsung Gear Camera review is that this gear is dust and splash-resistant. 
Because of this, you can carry it with you everywhere you go. What users are also very fond of is the large memory capacity. The memory storage will satisfy all users' needs as it can operate with a MicroSD card of up to 128 GB. Such freedom of storage will allow you to effortlessly save all of your memories on this gadget.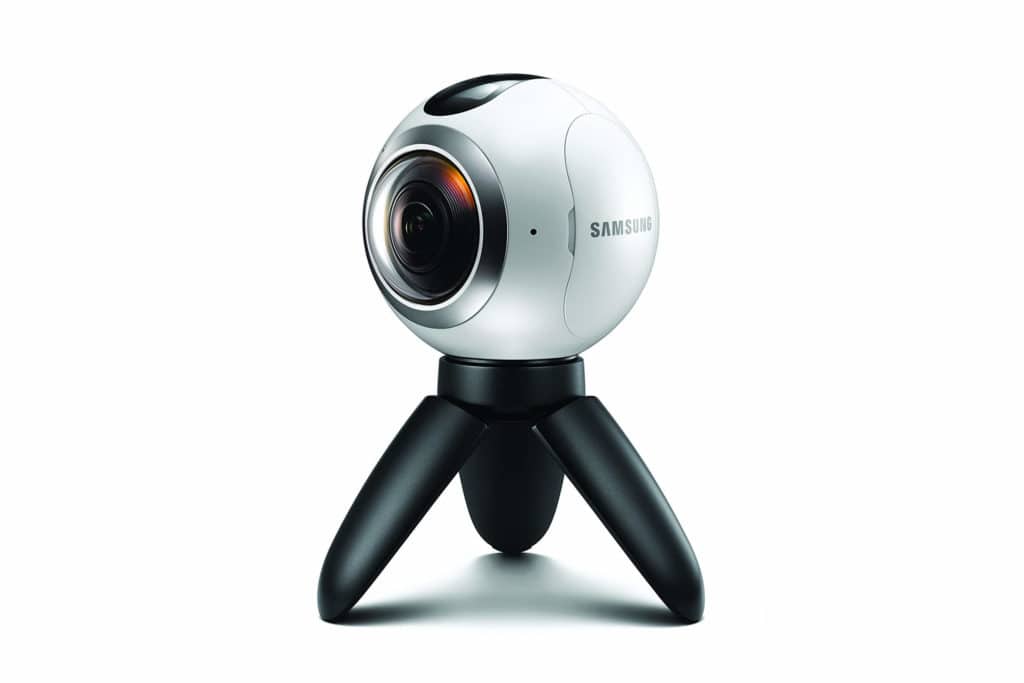 Samsung Gear 360 Photo Quality – Pros and Cons
We wanted to make this Samsung 360 Gear Camera review down-to-earth and info-packed to let you know what to expect if you decide to buy this exceptional piece of technology. 
With that said, we've prepared a detailed part addressing the Samsung Gear 360 photo quality. Moreover, you will read about the pros and cons that come with this product.
Let's check them out.
Overall Image – Photo & Video
Overall there are more pros than cons in all types of comparison.
Pros
The Samsung Gear 360 and VR camera lenses are capable of covering a wider part of the frame compared to other cameras of this caliber.
The camera serves with extraordinary exposure type latitude. Moreover, it has the capability of capturing a very dynamic range.
Low light is nothing more than just another challenge it overcomes as it creates amazing photographs in dark environments.
No chromatic aberration loss whatsoever.
It has an amazing 30-megapixel resolution. This was unheard of up until now as it's the highest among any 360 video recording cameras currently available.
4K resolution available. You can create content of the highest quality.
Timelapse feature available and easy to use.
Look recording available.
Incredible audio quality.
Cons
Some users pointed out that there's a slight color difference between the lenses. Apparently, this causes visibility of the stitch line. Fortunately, this is nothing that can't be fixed with Autopano.
Allegedly, there is an issue with the vertical orientation sensor quality.
Limited controls for managing exposure.
Doesn't have an intervalometer feature.
Long-running videos can be disrupted by overheating issues.
Compatibility 
There are a plethora of picture editing apps available in both the Google Play Store and App Store, most of which function flawlessly with photographs and movies recorded by the Samsung 360-degree camera. Once you're done customizing your photos, you can easily and quickly share them on Facebook and YouTube using the 360-degree manager app or action director. 
Moreover, Google's Street View is also compatible with this gadget and works really nice. As for sharing video material, we suggest you use the Oculus Video app, as it's probably the best app you can use.
To do that, make sure you have one of several specific brands of phones. This is a bit of a bummer since the camera won't work with many devices. Worth mentioning is that a mobile app is required for all Samsung devices. On the other hand, PCs and Macs require software so you can link your Samsung Gear 360 with them. The sync can be established with PCs that incorporate USB port 'A' type.
The list of compatible devices for the Gear 360 and VR includes Galaxy S8, S8+ S7, S7 edge. Even if you have an older Galaxy version, including S6 and S6 Edge, and the Galaxy Note 5, you will still be able to use this camera. 
Mobile devices that use iOS 10.0 software, including 7, 7+, 6S, 6S+, and others, are not compatible with this product. However, remember that you might experience minor functional limitations when it comes to using different Samsung phones. 
Another good thing you ought to know is that the overall availability of the features implemented in this product may differ. This is tightly dependable on the mobile device, version of the operating system you are using, and region.
Samsung 360 Gear Camera Review – Specifications
To paint a better picture, we dove deep into this amazing product's specifications. This way, you will get familiar with what you're getting by purchasing the Gear 360 and VR by Samsung.
Basics
The Samsung Gear 360 weighs only 153 grams and has size parameters of 66.7×56.3×60.1 mm. This seems like a great compatible object to carry in your pocket but in reality, it's not due to the eyeball shape the actual camera has. It supports a Micro SD card with a memory going up to 128GB and 1GB RAM, and it's accessible with USB 2.0, Wi-Fi, and Bluetooth. The included battery is 1.350mAh and lasts for a really long time – enough not to disappoint you throughout your adventure.
Thanks to the Dual f/2.0 with a fisheye lens, your dual cam will provide image resolution of 7776×3888 with the single-cam yielding 3072×1728. As for the video, the dual cam resolution is 2840×1920, and the single one's 2560×1440.
First Glance Positives and Negatives
If you've never used these types of devices before and you can't spot pros and cons at first glance yourself – we will gladly present you with our point of view. However, everyone has their own set of requirements and preferences, and a one-size-fits-all device doesn't exist, so – you be the final judge.
One of the biggest advantages you will get with this product is that you'll become a proud owner of a 360 camera with the highest resolution. Moreover, the Samsung Gear 360 is straightforward to use and comes with an affordable price range. 
The splash and dust resistance is a massive plus as you will most likely come across bad weather conditions you want to record. The battery and SD card are easily replaceable. On top of that, it has a wireless Integration facility and offers options for time-lapse and loop recording.
The cons are debatable as most of them result from personal preference, like the pronounced stitch lines, for example. However, if you don't have any of the mobile devices we already mentioned, you won't be able to connect the camera. Last but not least – if it was fully waterproof – it would've been awesome. This is something we should expect shortly, though.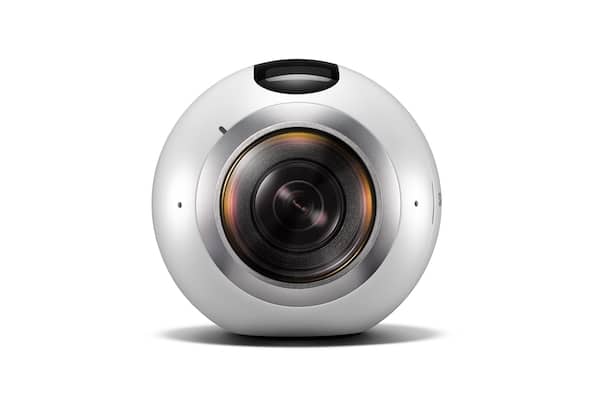 What you Get by Purchasing it
The box you get comes with a USB cable, quick-start guide, a tripod, battery, and the camera. Also, owners will have a cleaning cloth, a compatible pouch, and a strap. These components and your phone are all you will need to start using the Gear 360 and VR camera.
Clients' Opinions
After browsing the internet to find what owners of the Samsung 360 Gear have to say – we weren't surprised by the huge satisfaction they've expressed. Mainly, users are in love with this product as it thoroughly meets their expectations. 
What they really like about it is the huge memory capacity as they can record for a long period of time. This is where the battery life contentment kicks in. Moreover, the Samsung Gear 360 photo quality was yet another common thing customers appreciated in their comments.
However, they weren't enthusiastic enough about the camera's shape as it is challenging to carry in a pocket. Fortunately, the pouch that comes in the box was the perfect solution for that. You can imagine the comments coming from iPhone users, though. We can tell you they weren't happy that they weren't included in the compatibility segment.
Nonetheless, mostly everyone who purchased the camera wrote positive feedback in the comments. This is a solid reason for you to buy it and see what everyone is talking about it.
Samsung Gear 360: Buyers' Opinion
After going above and beyond to deliver the most comprehensive Samsung VR Camera review, we hope to bring this product to a better perspective for you.
Everyone who loves photography can now work magic with the 360 degrees capturing technology. Videos are not out of the question as they will open up new perspectives for the most innovative users. Moreover, the camera is easy to handle and use. The additional features and equipment you get are just the icing on the cake!
All in all, the Samsung Gear 360 VR is definitely worth buying and will help you discover a new perspective about capturing the moment!