Best VR Gaming Accessories – The Ultimate List
Disclaimer: This site may contain links to affiliate websites, which we may receive compensation if you purchase these products 
If you were looking for the best place to find all the coolest gadgets for your virtual gaming activities, you have come to the right place. 
This article lists all the VR headsets and virtual gaming accessories you need to get started on enhancing your gameplay.
1. Oculus Quest 2 VR Headset
The headset comes with motion controllers and is a must-have for any metaverse user.
Needs no introduction, and this is where your journey towards accumulating metaverse hardware should begin. 
2. Tendelux 80 Feet IR Illuminator
Not everyone likes to play in brightly lit rooms. An IR illuminator helps your VR headset track your movements and body parts in the dark.
This means no more erratic gameplay while in the dark. 
3. Oculus Link Headset Cable 
Oculus Quest 2 VR Headset can also be connected to a gaming PC with the help of Oculus Link.
The Oculus Link Headset Cable measures 16 feet in length and is compatible with both USB-C connectors. Your movement will be unhindered. 
4. KRX USB-C Cable (20-foot)
Want something longer? This is the one you need!
5. Party Link USB-C to USB-C cable
Looking for another choice? Try the 16-feet Party Link USB-C to USB-C cable. Just as good and slightly less expensive. 
6. Quest 2 Elite Strap
This fabric-made head strap stretches so well you will never feel the weight of Oculus Quest 2 around your head. Makes your metaverse activities more comfortable. 
7. JSVER Hard Carrying Case
Standalone VR headsets are perfect for mobile individuals who wish to experience metaverse activities while on the go.
To prevent your standalone VR headset from being damaged, you need to get a sturdy JSVER Hard Carrying Case. It is waterproof and is resistant to dust as well.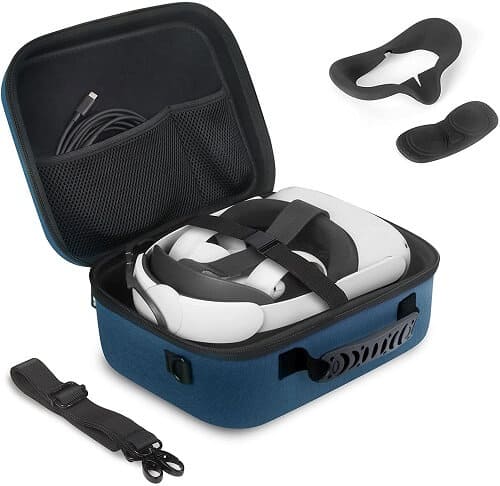 8. Oculus Quest 2 Carrying Case
Looking for something to carry Oculus Quest 2? Try the Quest 2 Carrying Case. Looks quite chic too. 
9. KIWI Design VR Cable Management
Your VR experience is all about moving around while experiencing the immersive nature of your metaverse activity.
However, moving around with your headset and other hardware can cause you to get entangled in wires.
KIWI Design VR Cable Management is compatible with all VR headsets and comes in two attractive colors: black and white. Get the entire set for complete cable management. 
10. Crave Travel PRO Power Bank
One does not have to forego their metaverse gaming experience if they are on the go.
The Crave Travel PRO Power Bank has a 13400 mAh capacity and ensures that your VR headsets remain active as long as you are outside.
The power bank is also thin and portable, making it easy to carry in your pocket. 
 11. Anker PowerCore 10000 PD Redux Portable Charger
While this one may not be as powerful as Crave Travel PRO Power Bank, it still gives you enough juice to keep playing those games on the go. 
12. Anker Oculus Charging Station
Charges both Oculus and its controllers. Also acts as a dock. This is an excellent option for those who don't want to deal with loose cables. 
13. Logitech G333 VR Gaming Earphones
For an immersive audio experience that does not leave you sweating, hot, and bothered, you need earphones that are non-intrusive.
Logitech G333 VR Gaming Earphones allow you to move around easily and come with double drivers for superior audio.
In addition, they also have three silicone tips that block external noise. 
14. KIWI Design VR Stand
If you don't store your VR headset in the correct position, you will probably reduce its life and cause irreversible damage.
The KIWI Design VR Stand not only protects your VR headset but also displays it at an angle that looks almost elegant and stylish.
15. CNBEYOUNG Lens Cleaning Pen
VR headsets often accumulate a lot of dirt, grime, and dust.
CNBEYOUNG Lens Cleaning Pen helps you actively get rid of all the buildup without damaging the lens of your headset.
It is portable and helps extend the life of your VR headset. 
16. MagicFiber Microfiber Cleaning Cloth
If you don't want a fancy pen to actively clean your headset, this is a good option. Not a high-tech accessory, but very much needed. 
17. Silicone Cover by VR Cover
This silicone cover covers the visor of your VR headset and protects it from damage.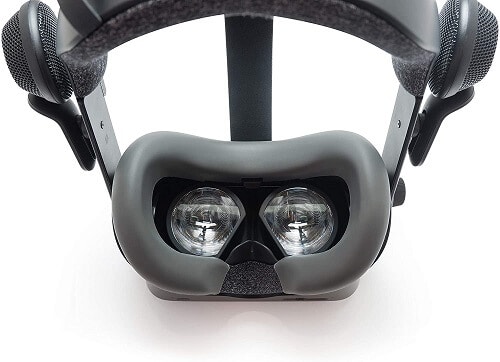 18. ProxiMat VR Mat
With this VR mat, never worry about your headset trying to interfere with your perception of boundaries while moving around the room.
Although headsets do this for safety reasons, they can reduce your immersive experience.
This floor mat helps you recenter yourself on hard flooring and avoid fatigue.
19. HTC Vive Tracker (3.0)
Track your body's movement and presence while simulating various kinds of realistic scenarios.
Perfect for those movement-oriented metaverse activities. 
20. Bhaptics Tactsuit X40 Haptic Vest
Necessary to have an immersive "touch": experience. The Tactsuit does not hurt, but you can feel the vibrations when under attack in a game. 
22. VirtuClear Oculus Prescription Lenses
If you need prescription lenses but would also like to use Oculus Quest 2, these lenses are perfect. 
23. Nayoya Weighted Gloves
Weighted gloves give a certain haptic sense that makes gameplay all the more real.
24. Facial Interface & Foam Replacement Set For Quest 2
Take your Quest 2 to another level with the help of facial interface features. This is an absolute must for games that require interactive gameplay.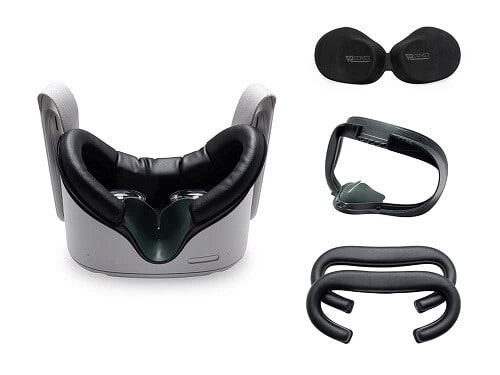 25. WYWY Wide Smart Power Bank For Oculus Quest 2
This is just another power bank that helps you keep your Oculus Quest 2 juiced up all the time.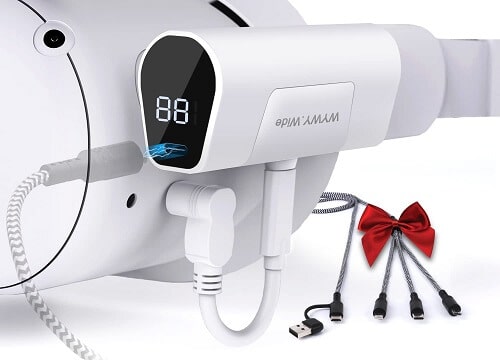 26. Crossmeta Oculus Pistol And Rifle Bundle For Quest 2
Perfect for all those shooting games and action gameplay where you need a realistic, immersive bundle. 
27. Oculus Quest Fishing Reel Adapter
If you are fond of virtual reality fishing, this might be the accessory for you. It feels like you are using an actual pole to catch your fish.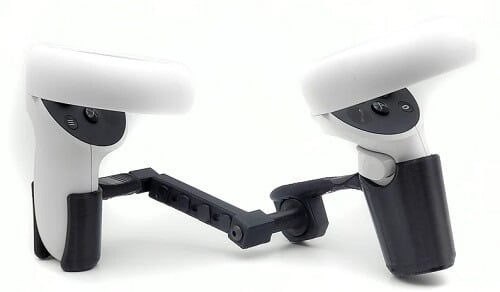 28. BOBOVR Battery Pack Head Strap and Charging Dock Combo
This is a good head strap and doubles up as a charging dock. Two good things in a single accessory.