Best Oculus Quest 2 Head Strap – Ultimate Guide
Disclaimer: This site may contain links to affiliate websites, which we may receive compensation if you purchase these products 
Since the Oculus Quest 2 took the stage, the world of VR experiences never looked the same. 
But, being almost a traditional staple in the world of VR, using the Oculus Quest 2 requires the use of an adequate head strap. 
Head straps that match the Oculus Quest 2 headset come in various shapes and sizes, as well as extra features that set them apart. 
To help you find the best-performing Oculus Quest 2 head straps, we researched the current VR market and compiled a list of the best head strap picks in 2023. 
5 Best Oculus Quest 2 Head Straps for 2023
For every passionate VR gamer out there looking for a quality head strap that fits Oculus Quest 2 like a glove, here is a breakdown of the best head straps to use, reviewed in terms of durability, design, materials, and price. 
1. Kiwi Design Head Strap: The Comfort Strap
The Kiwi design head strap is a budget-friendly Oculus Quest 2 head strap that has several nice editions that make it stand out from the competition.
Typically, VR head straps can be challenging to wear for a longer time, but Kiwi alleviates the discomfort and makes for a smoother experience, even for customers who wear eyeglasses. 
Not just wearing it, the head strap is also easy to place and adjust and is made of top-quality polymer, which adds more durability to it.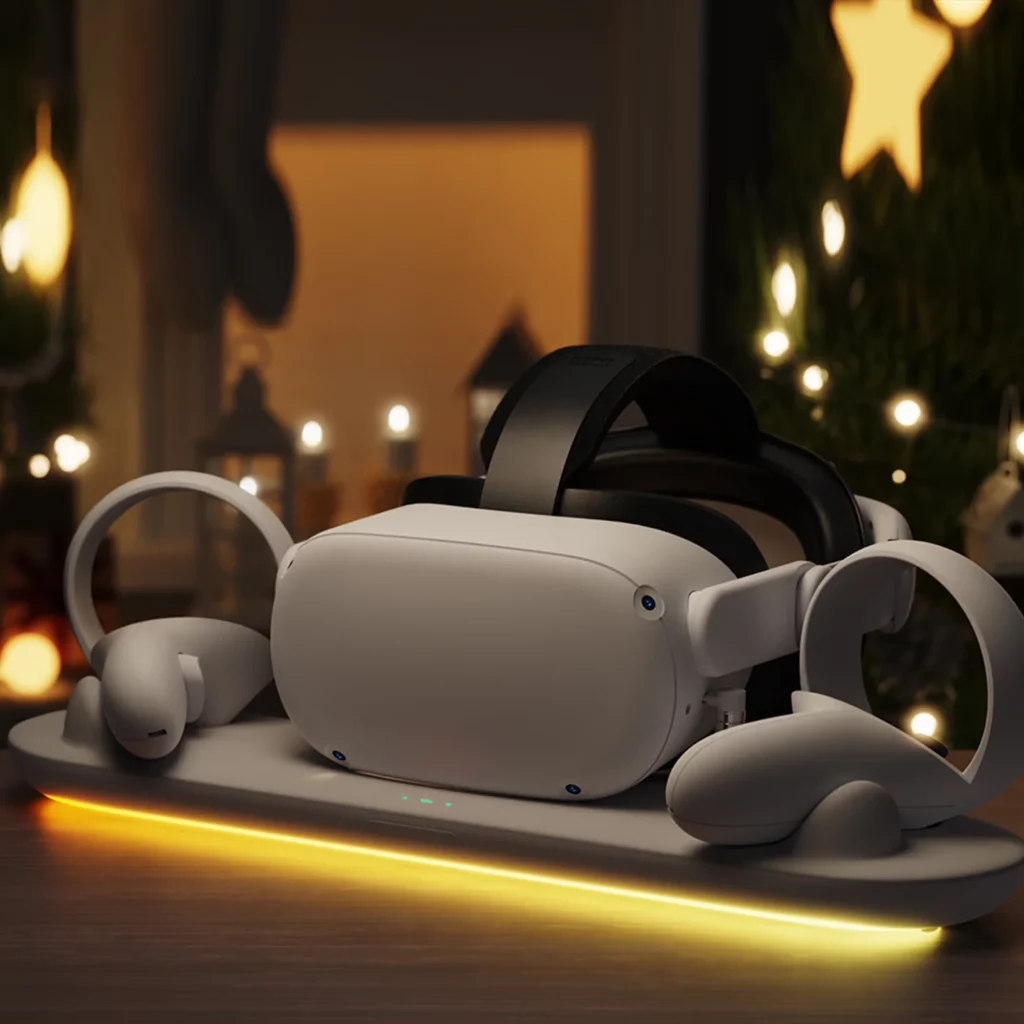 The Kiwi head strap comes with a connector that lets users move their Oculus Quest 2 headset by 52 degrees – back and forth. 
This way, users don't have to remove the side straps to put the headset on or off, but can simply turn the headset screen upwards.
Kiwi head strap weighs 350g and comes with a large cushion that ensures more comfort and better stability. 
Users can wear the Kiwi design head strap for a long period and trust that the cushion will reduce any pressure of wearing the headset. 
The super-comfortable KIWI head strap has a dimension that fits almost all standard Elite Travel Cases and makes it one of the most affordable options to consider. 
Pros
Enables maximum comfort
Easy to attach to the Quest 2 headset
Easy to carry
Upgraded cushions
Optimizing wearing design
Cons
2. Oculus Elite Strap: The Most Ergonomic Head Strap
Oculus 2 Elite Strap is one of the best head straps for Oculus Quest 2. 
It is a sturdy hard strap that keeps the balance and increases stability when delving into quality VR experiences via the Oculus Quest 2 headset.
The back part of the strap has a specially designed fit wheel, so users can easily regulate the tightness by adjusting the simplistic twist. 
This model comes with flexible support cradles to deliver better comfort for the head. 
It supports any excess weight on the head, reduces wearer fatigue, and can be worn discomfort-free for extended periods of time.
This ergonomic head strap weighs only 179g, but can successfully keep your headset in the right position. 
It also makes all visuals extremely clear, thanks to its rigid stabilizing straps.
Oculus 2 Elite strap offers all-around support and is easy to install by removing the original strap and snapping the Elite strap in its place. 
Made from premium materials and available in a few different colors, Oculus 2 Elite Strap comes at a pretty competitive price.
Pros
Provides comfort and balance to the user
Reduces wearer fatigue
Premium Meta Quest materials
Adjustable fit wheel
Adds a touch of style
Cons
3. Esimen K3 Head Strap Set: The Easiest to Carry and Adjust
The Esimen K3 head strap is a genius pick that will keep your Oculus Quest 2 experience seamless. 
Since it is made of PU leather, a special breathable foam material, the strap is quite easy to clean and comfortable to wear. 
The strap also reduces facial pressure effectively due to its softness, whereas its unique design, made from top-quality ABS plastic, supports the user's head for longer.
The Esimen K3 head strap prevents excessive sweating when you wear it, due to its soft silicone coating. 
Plus, users can easily install and remove the Esimen K3 or adjust it to the size of their head with the help of the strap's designated rotation button.
The Esimen K3 is available in 2 colors and makes among the cheapest head straps for Quest 2 on the market. 
It weighs about 800g, although it makes an easy item to carry around. Not to mention, the strap comes with its own protective cover case that is waterproof and makes for easy storage.
Pros
Premium Leather Head Cushion
Anti-slippage
Easily apply and remove
Round rotate button
Cons
Available in 2 colors only
4. BOBOVR M2 Head Straps for Oculus Quest 2: The Most Durable
BOBOVR M2 is yet another superb head strap for the Oculus Quest 2. 
Its ergonomic design ensures comfort when wearing it, whilst also boosting the overall gaming experience. 
It comes with a gravity balance design that properly balances the product's weight against the head, thus reducing the feeling of pressure for users. 
The BOBOVR M2 design provides 5 different areas of adjustment for users, which makes for versatility and practicality. 
Also, the strap's contact part is built of a skin-friendly leather and soft foam pad, which is not only easy to clean, but also offers a breathable and comfortable experience when wearing it. 
The BOBOVR M2 strap is designed from a high-quality ABS and mixed plastic that reduces the chance of cracking and gives the strap greater durability. 
The strap is among the more expensive options on this list but earns its reputation as a top-quality product.
Pros
Increases the comfort
Easy to use
Distributes the headset weight for an extended experience
Wide front part
Power bank for up to 3 hours extra playing fun
Cons
Doesn't fit in every travel case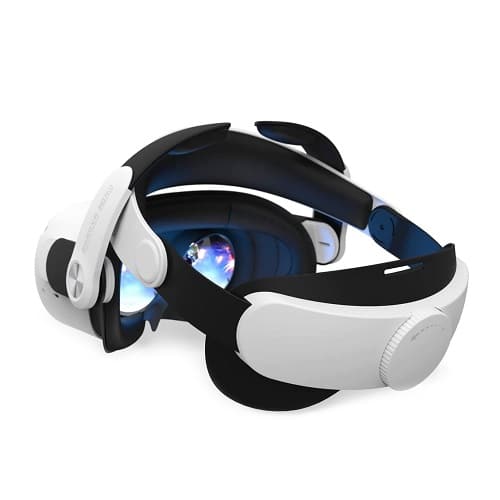 5. Elite Battery Head Strap: The Most Practical Overall
Elite Battery head strap is easy to install and comes with a super practical instruction booklet. 
This head strap is simple to adjust and wear and allows users to plug the battery pack directly into the headset. 
There is also a battery light indicator and users can even charge both the strap and the headset simultaneously. 
This makes the strap highly versatile and practical, not to mention durable and sturdy. 
New gamers can use the Elite Battery head strap without any issues and install it in under 10 minutes. 
All extra weight of its battery strap is on the backside of the headset, which provides a balancing effect that absorbs pressure from the user's forehead and nose. 
The battery offers 2 hours of extra gameplay, so users can enjoy longer sessions without fearing poor battery life. 
This model is ideal for gamers who want prolonged gaming experiences.
 However, it makes among the more expensive picks on our list, which might not be ideal for users on a budget.
Pros
Fits over the default strap and improves balance
Doubles playtime per charge
Fast installation (5 to 10 minutes)
Charge headset and battery simultaneously
Cons
Expensive
Takes longer to charge
What is the Most Comfortable Oculus Quest 2 Strap?
Out of all picks on our list, the most comfortable Oculus Quest 2 strap is the Kiwi head strap.
Due to the model's connector, users can adjust their Oculus Quest 2 headset by 52 degrees.
This also excludes the need for users to remove the side straps – instead, they can simply turn the headset screen upwards.
Finally, the Kiwi headset is suitable for people wearing glasses and comes at a modest price, which makes it an obvious frontrunner.
How Do I Make My Oculus Quest 2 Better for My Head?
Using the Oculus Quest 2 right requires setting it accordingly to the head.
To achieve this, and eliminate any pressure from the nose, cheeks, and forehead, you first have to adjust the soft cushions of the head strap that you are using with the Oculus Quest 2 headset.
Most head straps that fit Oculus Strap 2 come with upgraded cushions, which will make for a more pleasant experience.
You can also change your head strap for one that comes with an adjustable fit wheel – it will help absorb the headset weight accordingly.
Kiwi and Elite head straps are the best picks in terms of fit and comfort when using the Oculus Quest 2, since both eliminate the slide-off sensation and rubbery feel when wearing it.
Not to forget, both the Kiwi and Elite avoid squeezing the ears and give your head enough breathability and spaciousness whilst gaming.
Is Oculus Quest 2 Elite Strap Worth It?
Yes. Oculus Quest 2 Elite Strap is worth every cent you spend.
This model is more ergonomic than most head straps that work with the Oculus Quest 2.
It is, therefore, highly comfortable and also comes with a wheel for simple adjusting as well as a built-in battery.
The Quest 2 Elite Strap boosts the comfort of the prominent Oculus Quest 2.
It distributes all weight accordingly whilst simultaneously supporting the back of your head for extra coziness.
If you are a passionate player and you wish to play on your Oculus Quest 2 for longer periods, the Quest 2 Elite Strap – which comes with a carrying case and battery – is a worthy option to resort to.
Can You Replace the Oculus Quest 2 Head Strap?
Yes, replacing the Oculus Quest 2 head strap is possible. To do it, follow these steps:
Take off the facial cover and pull it evenly
Next, loosely pull the top strap from the loped velcro piece so as to disconnect it
Pull away the side straps on both sides of the headset carefully to disconnect them
How to Attach a Head Strap to the Oculus Quest 2 Headset?
Just like taking the head strap away, you can also attach it easily by following these steps:
Attach the new head straps to the same joints the other strap was pulled away from.
You'll know they are attached by noticing the clicking sound of the strap falling into place.
Next, proceed to attach the top velcro strap. Loop it through the same area that you used with the previous head strap.
What is the Best Oculus Quest 2 Head Strap with Battery?
The best Oculus Quest 2 head strap is the Elite battery head strap. This model is easy to install, and simple to adjust.
To work, the battery pack needs to be plugged directly into the headset.
To make for a smoother use, the Elite battery head strap offers a battery light indicator that tracks the battery life accordingly.
Like most head strap models designed to fit Oculus Quest 2, the Elite battery head strap, too, takes off the pressure from the user's nose and forehead.
Moreover, its battery offers 2 extra hours of VR gaming, so instead of taking the headset off to charge it, users only need to change the battery and continue playing.
What should you look for in a head strap?
When selecting a head strap, consider the following key factors:
Comfortable Halo Design: Look for a head strap with a well-designed halo that comfortably fits around the back of your head. This feature helps distribute the weight of the device, making it feel lighter during use.
Effective Padding: Opt for a head strap with sufficient padding. Since your skull has minimal natural padding, a quality head strap should provide the necessary cushioning to enhance comfort during extended use.
Ratcheting Mechanism: A head strap equipped with a ratchet system is beneficial. This feature allows you to adjust the tightness of the strap to suit your preferences. It ensures a secure fit, even during dynamic movements.
Durability and Flexibility: Choose a head strap with durable side pieces that can withstand regular use and potential twisting. The strap should be resilient enough to endure various motions without breaking, providing long-lasting reliability.
Benefits of using an external Oculus Quest 2 head strap?
What advantages come with employing an external head strap for your Oculus Quest 2? Several benefits include:
Enhanced viewing angles for an improved experience.
Improved grip for a more secure and comfortable fit.
Extended battery life to keep you immersed in virtual reality for longer periods.
Bottom Line
The Oculus Quest 2 is impressive enough to start your gaming experience with, but passionate gamers who spend a lot of time playing in VR need a head strap to reduce the pressure they feel on their head.
Even those players who prefer using the keyboard and mouse in VR find it difficult to wear the Quest 2 for hours as it is front-heavy.
From the KIWI Elite Strap and the Elite Battery head strap to BOBOVR M2, Oculus Elite Strap, and Esimen K3 – any of these options can do wonders for your gaming comfort and enjoyment.
All in all, your ultimate decision will depend on what you are essentially after, the price you are looking to pay, and the standard and extra features you want to include in your head strap pack.