Find the Best Oculus Quest 2 Face Covers in 2023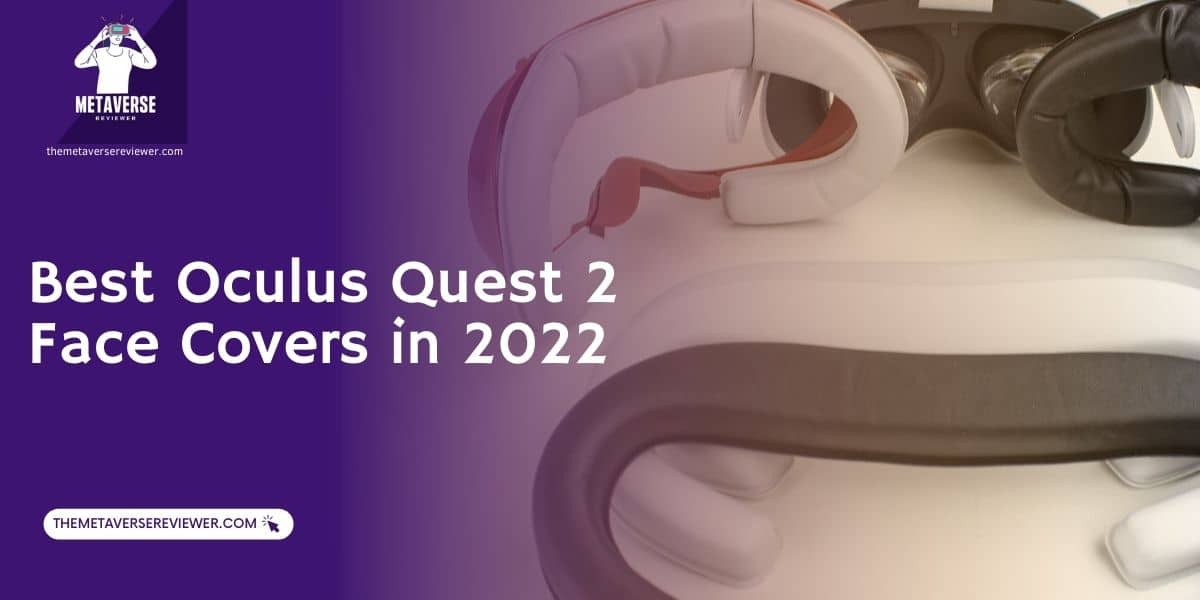 Disclaimer: This site may contain links to affiliate websites, which we may receive compensation if you purchase these products 
The Oculus Quest 2 is a huge improvement to its original version, and people that have it currently will undoubtedly say that purchasing the Oculus Quest 2 was the right choice when it comes to VR consoles!
Whether you are a casual player or an everyday hardcore gamer, the amount of time you are using your device will take its toll. To be more precise, if you are using the Oculus Quest 2 more than a couple of hours a day, the absorbent foam pads will damage over time. This is why it's wise to have a few options when the time comes to change oculus quest 2 face cover or the Oculus face guard.
Even casual players will once in a while have an intense gaming session with a lot of sweat. Talking long term – sweat can cause some minor issues.
We are here to provide you with the best face cover for Oculus quest 2 when the time comes to replace your VR cover's facial interface.
What Happens to the Oculus Quest 2 Face Cover Over Time?
After several intense gaming sessions or using your VR console for a longer period of time, sweat can do some damage. You may not know or notice initially; however, sweat drips from your face to the face covers, and over time – this can cause some issues.
One of those issues is bacteria, which is present in sweat. The bacteria in your sweat won't cause any problems as long as you wipe it away; however – it will certainly enter the foam padding on the face covers, which will later multiply. This is an issue because some people share their devices with others, and bacteria from their last intense gaming session will be transferred to them. Even if people use it only by themselves, that stored bacteria can cause issues to their own skin.
Another issue that sweat can cause over time is to make the face covers uncomfortable. Once you start sweating, the padding on the face cover will get wet. As the padding dries while filled with bacteria, it will get harder as time goes by. With more and more gaming sessions, you will start to lose the comfort you once had, and it will reach a point where you will have to replace certain parts.
The Best Oculus Quest 2 Face Covers
Searching for the best oculus quest cover isn't easy, and because our goal is to help you narrow down your choice – we've made a list and included some of the best oculus quest facial interface replacements we found. We will also showcase the free replacement silicone cover that Oculus offers to people who already own the Quest 2. However, if you want to check out alternatives with a different material like leather or silicone, which are easier to clean and don't fog up often – here are some of the best Oculus Quest face pad replacements in 2021.
1. Quest 2 Silicone Cover
Price: Free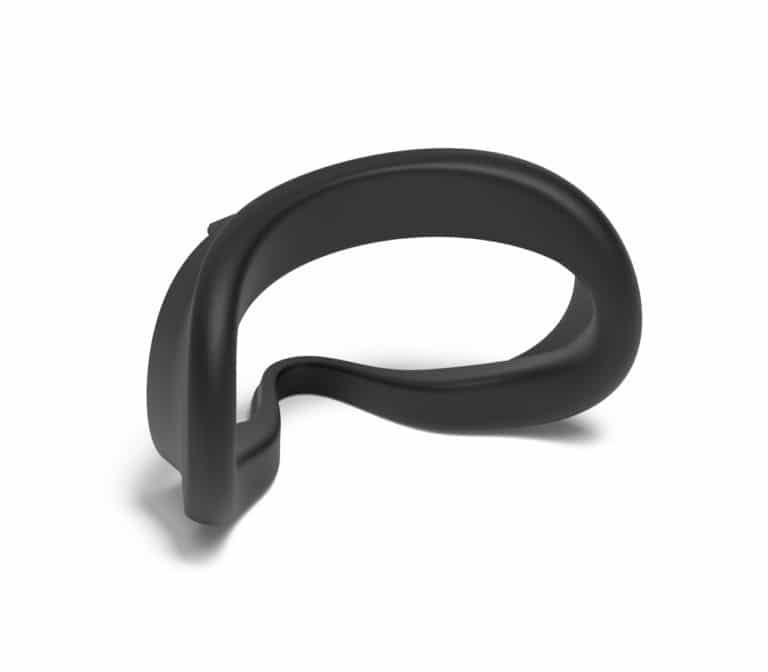 Let's take a look at the free silicone cover by Oculus. Honestly, we wouldn't have recommended it if it wasn't free. Because this item is part of the voluntary recall and a backup silicone cover is always handy – it made our list.
There will be times when you can't bother with washing your original cover but still want to play your favorite game, and this free oculus quest 2 silicone cover will do the job just fine. You will have the basic protection you need; however, it won't be the most comfortable and well-molded cover out there.
There are a few cons that this free cover comes with, and that's why we can't really consider it the best Quest 2 cover, apart from being free. Firstly, it takes a long time to deliver, taking as long as a month to arrive at your doorstep.
Second of all, it feels flimsy, considering it isn't made from the best materials. Finally, when you do get it to stick on the foam interface, which can take some time – it's highly prone to scratches that look like skid marks. At the end of the day, it's a free product – and we can't complain too much.
Pros:
Best used for workouts
Completely free
Cons:
Long time to ship
Comes in one color
2. KIWI Design Facial Interface
Price: $35
Many Oculus Quest 2 users have faced a similar issue when they are deep in their gaming session or do an active exercise routine – their VR cover glasses or lenses fogging up. The basic interface that the Quest 2 comes with does trap some sweat, making players' POV foggy. To overcome this issue, some replacement covers come with vents, giving players more air circulation.
The KIWI Design Facial Interface is one of those cover replacements that tackle the fogging issue. It comes with 4 vents, 2 at the top and 2 at the bottom. The 2 vents on the bottom are for cool air to get in, and the 2 vents at the top are for the warm air to get out, giving you close to perfect circulation.
Apart from having outstanding air circulation and padding that will enable you to wear the Quest 2 for hours, there is one issue that some players will find a bit annoying. At the nose guard, there is a bit of space where light can come in. If this bothers you, a simple solution is Velcro covers, which can stick easily over the space.
Pros:
Little to no fogging of the lenses
Removable and easy to clean pads
4 vents
Cons:
Light may come in through the nose guard
3. VR Cover Facial Interface and Foam Pad Replacement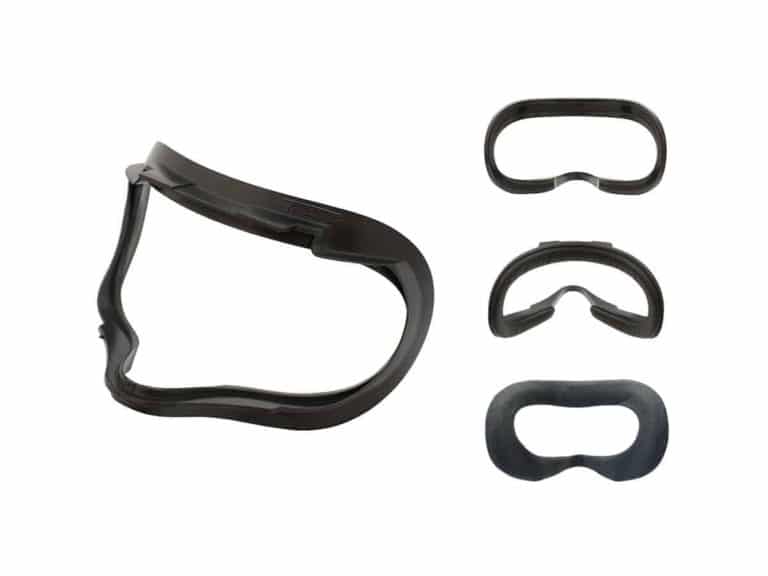 Price: $29
Our next item is the VR cover facial interface and foam pad replacement, an Oculus accessory, meaning that it underwent excessive tests, and its quality is second to none. This set comes with a gasket and 2 PU pads, which of course, will be a walk in the park to replace and super easy to clean. To keep light from coming in, you will also receive a nose guard.
Although leather is way more comfortable than other materials used for padding – it does make you sweat more. Unlike the foam padding, which will absorb the sweat, by using this cover, you will have to deal with sweat dripping down your face. A simple solution to this is wearing a sweat guard or tying a bandana on your head. Plus, even though it comes with a nose guard to block light from getting in – it doesn't entirely stop it. Again, this can be solved with some Velcro covers.
Adding all these parts to your Quest 2 will make the whole set a bit heavier; however, the entire experience will be much more comfortable.
Pros:
Two face covers
Nose guard
Comes in multiple colors
Cons:
It will cause sweat to drip
Some light will come through the nose guard
4. AMVR Facial Vent and Pads
Price: $27
Our last but not least product is the AMVR Facial Vent and Pads set. If we compare it to the KIWI Design Facial Interface, the nose guard on the AMVR will prevent more light from coming in. We also think that the best oculus rift foam replacement and the VR cover for oculus rift s are quite similar to AMVR; however, here you will get larger vents that will make air circulation a bit better.
In this set, you will be getting seven, and yes – you read that right! Seven separate accessories will make your gaming experience a whole lot better. Starting with a facial interface bracket, you will also be getting 2 foam pads that go on the sides, a lens cover that blocks light, 2 leather face covers, one 8mm and once 12mm in size, and a nose guard.
Another thing that gives AMVR bonus points ahead of other replacements like the oculus rift face interface is that it's marvelous for people that wear glasses. Numerous such customers have said that it fits perfectly and it doesn't bother them while gaming. The final thing we want to point out is that you should go for the black version because the orange one will attract more light, which will bug you while in full gamer mode.
Pros:
Padding for the front and sides
Anti-fog vents
Excellent for people with glasses
Cons:
Orange model attracts more light

Tips on Choosing the Best Oculus Quest 2 Face Cover
It is important to look at a few variables when choosing VR face cover Quest 2 replacements.
We consider hygiene extremely important, so if you aren't the only person using the console – we recommend choosing replacements that don't have foam padding. This is because sweat bacteria will gather and get absorbed by the foam padding, so going for a leather version, which will make the sweat drip, is the wise move.
On the other hand, if you are the only user – you can certainly go for foam padding, and after a game session, simply wash and clean it.
Comfort is another big aspect when looking for replacements, and there are multiple options when it comes to materials – foam, leather, silicone – the market is full of different options. It all boils down to users and which products feel the most comfortable on their heads. There are also sets that include pads for both the front and the sides of the face and head, which will make the whole VR console a little bit heavier; however, it will enable players to play their games for a longer period.
Lastly, never ignore brands you aren't familiar with. We all know that famous brands will have better marketing and frequently pop up on the internet; however, there are still manufacturers that make excellent products that will be comfortable and cheaper than some well-known brands.
You should always look at customer reviews and browse through VR gaming sites to see what other players say about the products. There will always be some negative comments but try to focus on the positive feedback the product has and base your decision on that.
Cheap Virtual Reality Headsets: What To Look For
High-end VR headsets may cost close to $1,000, while low-cost VR headsets can cost as little as $10. So, it's hard to know precisely what you'll get for your money, but there are a few essential things you should look out for.
Most cheap VR headsets around $50 utilize your smartphone for content and controls. You'll be playing little movement-based arcade games or enjoying 3D VR material on YouTube and other applications. That's where you should start when deciding if a VR headset is worth the money. That means making sure your smartphone can run Android and iOS applications, as well as the headgear itself.
If you can spend up to $150, you could get a screen and processor. It won't be as good as Oculus or HTC yet, but with certain controllers integrated, you could have a greater selection of proprietary applications.
Beyond that, the Oculus Quest territory within the $150-300 range delivers a performance boost. If you don't want an Oculus Quest headset, obtain a piece with a 70-80Hz refresh rate and a resolution of roughly 1832 x 1920.
Around $300-600, you're likely in the VR for PC headset realm. With the Vive Cosmos Elite, you'll likely discover 90Hz or greater frame rates, additional tracking capabilities like SteamVR external sensors, and access to a large game and app library like Steam.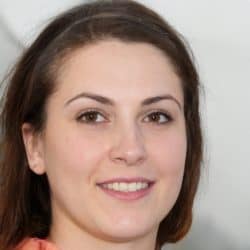 Latest posts by Lara Raven
(see all)