There is an absurdity in the notion of buying fictitious "real estate and land", worth thousands, if not millions of dollars. At least to the generations before the internet.
But, in these past few months, the Metaverse saw a staggering increase in virtual land investments. One of the newest players is PwC, a tech mogul providing professional services, which paid an undisclosed sum for property investment in The Sandbox.
It was a sizable profit if we were to believe the previous sales reports.
There is a report of a person known as P-Ape that recently bought a parcel of land in the Snoopverse, a simulated 3D environment, on which famous rapper Snoop Dogg works together with The Sandbox.
The parcel of land was sold for $450.000!
In the meantime, a piece of land in Decentraland, yet another virtual world, was sold for a little over $2.4 million. The "land" was bought by the Metaverse Group – a Metaverse economy-focused real estate company.
As a concept still far out of our understanding, stay tuned as we elaborate on how the Metaverse will deal with real estate. 
What is the Metaverse?
First off, let's take a look at what the "Metaverse" is all about. You must have heard about the rebranding of Facebook to Meta, which occurred in October 2021.
Big companies, such as Microsoft and Nike, have made their announcements that they will take part in this new virtual reality.
The Metaverse is a virtual world you can connect to by means of VR technologies, as well as augmented reality technologies, or AR. You can access this new profound virtual reality environment with the help of AR glasses, VR headsets, and designated smartphone applications.
Every user will have a digital representation (Avatar) of them, to be used for communication, content creation, and Metaverse exploration. The main idea of this new virtual world is to create a brand new and synergetic virtual space, where users can communicate, work, learn, and play.
There already exist a few Metaverses. There is one virtual gaming platform we mentioned earlier, The Sandbox, where users can play games. Then there is Decentraland, which is an open-source 3D virtual world platform. As all websites are part of the 2D "world wide web", separate Metaverses will form a bigger Metaverse.
It's important to note that, just like in the physical world, you can buy stuff in the Metaverse – and this includes real estate.
NFT's as Virtual Real Estate
Transactions and payments in the virtual world are made through cryptocurrencies. Besides them, there is one more mechanism for exchanging value in the Metaverse,
and that is non-fungible tokens or NFTs.
As a digital asset, an NFT can never be replicated. In simple terms, it is entirely unique. As for digital art – videos, images, music, or 3D objects – it makes up the majority of NFTs like virtual real estate. Plots of land or even virtual houses are now available on systems like OpenSea, where NFTs can be purchased and traded.
The economic concept of "scarcity value" states that limiting the supply of digital real estate is necessary to ensure its value. Decentraland, for example, is composed of 90,000 square-foot "parcels" of land.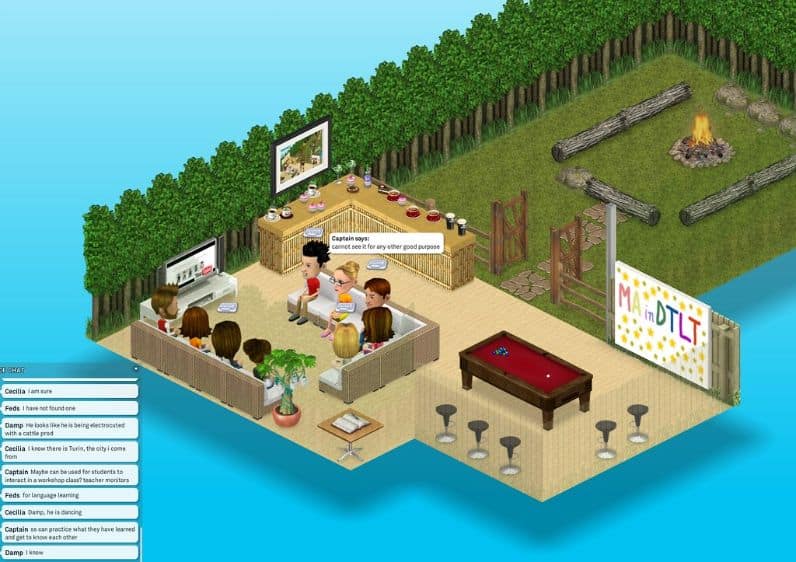 Some digital real estate is already increasing in value. An investment fund called Republic Realm reportedly paid over $900,000 for an NFT representing a plot on Decentraland in June of 2021. Decentraland's virtual land purchase was the most expensive in history, according to several sources tracking NFT sales data.
That was until the Metaverse Group bought their Decentraland plot for $2.4 million in November 2021. The Metaverse Group Purchased 116 land parcels versus the 259 bought by Republic Realm.
Not only Decentraland is gaining momentum. Nine land parcels were sold by Axie Infinity for $1.5 million in February 2021, with one particular parcel being sold for US$2.3 million in November 2021.
Despite the fact that prices appear to be rising, it's important to remember that investing in Metaverse real estate is still extremely speculative.
No one can't say for sure if this is the new "American dream" or the next big bubble waiting to burst. 
What Will the Future Bring for Real Estate in the Metaverse?
Profits aside, you may be wondering what companies and individuals will do with their digital property.
Decentraland's fashion district is one example of a Metaverse Group acquisition. Another area with the potential to grow further is avatar clothing – which should be fun.
It is true that most Metaverse real estate is owned by investors and companies, but not all. In terms of what virtual land ownership can offer, real estate gets you something tangible – a home you can be proud of and invite family and friends over at.
Unlike physical property, VR has some similarities. You could buy a plot of land to build on – by shopping for virtual real estate. Or, you can select a pre-built home that suits you, and personalize it to your taste in digital objects.
Make no mistake, putting this vision to practice will take time. Researchers expect the Metaverse to become a fully operational economy in the years ahead, similar to how email and social networking have become part of our lives.